Publishers challenge Apple e-book restrictions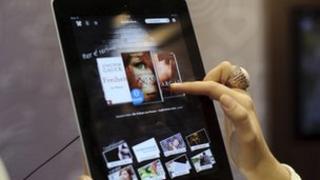 HarperCollins, Simon & Shuster and Penguin are among publishers who have filed a complaint against restrictions imposed on Apple by a US court.
Last month Apple was found guilty of conspiring with publishers to fix the price of e-books bought via iTunes.
It was ordered to terminate deals with five major companies and allow other e-book retailers to sell to iPad and iPhone users for the next two years.
The publishers say they are being punished by the restrictions.
Under agreements put in place between Apple and companies including Hatchett and Macmillan, electronic book price-fixing took place, creating unfair competition for other retailers, the court ruled last month.
At the time most of the publishers reached separate settlements totalling more than $150m (£96m) but Apple said it would fight the "false allegations".
According to the Associated Press news agency, the publishers' complaint says: "The provisions do not impose any limitation on Apple's pricing behaviour at all.
"Rather, under the guise of punishing Apple, they effectively punish [publishers that settled in the case]."
Garner analyst Van Baker told AP that the ruling seemed "heavy-handed".
"It is basically putting a stake through a portion of Apple's business, and I confess to being surprised by that," he said.
"It strikes me as a pretty heavy-handed solution to the issue."