Mobile phone drivers 'not linked' to accident figures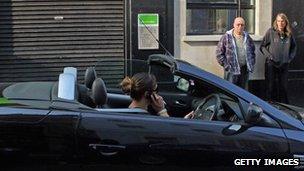 Researchers have found no link between the number of US drivers making phone calls while on the road and the number of accidents recorded.
A team at Carnegie Mellon University and the London School of Economics analysed more than eight million incidents of car crashes and all fatalities on roads in eight US states.
They examined data before and after 9pm local time over a three-year period.
However they say their results do not include texting or internet browsing.
The timeslot was chosen because during the period studied (2002 - 2005) many American mobile phone operators offered free calls after 9pm during the week.
Prof Saurabh Bhargava from Carnegie and Dr Vikram Pathania from the LSE found that while there was an increase in callers using multiple phone masts after 9pm, there was no corresponding increase in the number of road accidents.
Dr Pathania told the BBC they were "very surprised" by the results.
"At first we thought the numbers were wrong. We went back and checked everything - but there was nothing going on at all," he said.
"We just know that we saw a big jump in cellphone use and there was no impact on the crash rate."
"We were only looking at talking, not texting or internet use. And it may be that the traffic conditions on the road at that time [9pm] are such that moderate use of cellphones does not present a hazard."
Further research should focus on smartphone use, and also overall phone use among different driver demographics, Dr Pathania added.
"It may look different if you focus on young males or new drivers," he said.
"Rash drivers will always find a way to distract themselves."
With the exception of calls to the emergency services, using a mobile phone while driving was officially banned in the UK in 2003.
"Using a phone at the wheel increases the risk of a crash by four times," said Kevin Clinton, head of road safety at the Royal Society for the Prevention of Accidents (RoSPA).
"Sadly, despite legislation which makes it illegal to do so, many people still use a mobile phone whilst driving."
Related Internet Links
The BBC is not responsible for the content of external sites.