Swedish e-sports team win $1.4m Dota 2 video game prize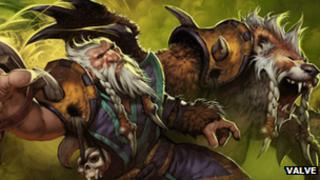 A Swedish e-sports team have won $1.43m (£924,000) after emerging victorious at a Dota 2 tournament.
It is the biggest single-event prize awarded at a video games event.
The final in Seattle was a close-run affair. Alliance only secured victory after destroying the stronghold of runners-up, Ukraine-based Na'Vi, in the final game of a best-of-five challenge.
The news comes months after the US began recognising gamers as pro athletes.
The move means that highly skilled players can now apply for a P-1 work visa on the same basis as other sportsmen and sportswomen.
'Slug fest'
Dota 2 is the sequel to Defense of the Ancients, a fantasy-themed battle game created by hundreds of volunteers who modified the real-time strategy game Warcraft 3.
The follow-up was developed by Valve, which also hosted the tournament - the International - and put up $1.6m of the prize money.
The total pot was $2.9m thanks to money raised by taking a cut of the sales of a $10 interactive pamphlet released to help fans follow the event.
Sixteen five-player teams from 12 countries took part in the five-day event at Benaroya Hall.
The Seattle Times reports that about 1,700 spectators attended, while an online video stream attracted as many as 600,000 simultaneous views at one point.
To win, the teams had to co-ordinate in-game characters called "heroes" to destroy their opponents' bases while defending their own.
The organisers reported that Na'Vi lost the first of the final five games after picking a "bizarre" draft of characters in a high-risk move that backfired.
However, the next three games were closer, leading to a 2-2 score and leaving the final battle as the decider.
"In a tournament filled with great games, it was the greatest game we have ever seen," reported the Dota 2 blog of the final match.
"Not one single action by one team went uncountered by the other. It was a slug fest of team fights."
Alliance ultimately emerged the victor after managing to be the first to destroy their opponents' towers, allowing them to lay waste to a structure known as an "ancient".
The Stockholm-based team were only formed this year, competing in their first Dota 2 competition in April. Since then they have built a reputation for drafting teams including characters that are often neglected by others.
They have now come first in nine different Dota 2 tournaments including the G-1 Champions League in Shanghai.
Gaming visa
Alliance's latest achievement follows news that the US Citizenship and Immigration Services has granted a Canadian pro-gamer a visa.
Danny Le became the first international e-sports player to be given the right to work and live in the US after his application was approved on May 29.
Officials had previously turned him away at the border when he had tried to move to live close to his Riverside squad-mates.
The team compete in tournaments for League of Legends, another battle-themed video game.
The title's developer, Riot, subsequently argued that the competitions qualified as a major sports league because six or more teams competed and they generated combined revenues or more than $10m.
The Los Angeles Times reported that Mr Le now planned to take part in League of Legends contests for at least five more years before returning to complete his university degree in Canada.
It added that other e-sports players, including an Argentinian and an Armenian, had also been granted work visas after Mr Le's breakthrough.