LG Display phone screen offers 'highest resolution'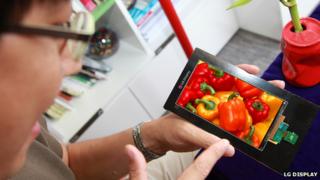 LG has announced what it says is the highest resolution smartphone screen to date.
The 5.5in (14cm) component features 538 pixels per inch and supports 2560 by 1440 pixel video playback.
That is higher than the 1080p high definition format, but less than 4K Ultra HD.
LG said the phone screen was also the slimmest available. However, analysts suggested consumers might struggle to appreciate the difference.
The South Korean firm's display division was the fourth biggest maker of screens used in phones and tablets in 2012 based on revenue, according to research firm NPD DisplaySearch.
Samsung sold the most, followed by Japan Display and Sharp.
LG said its latest technology would offer "more lifelike and crisp images" than what was already available on the market.
"The new Quad HD panel will enable users to enjoy a full view of PC-version web pages at a single glance without image distortion," it said.
"Also, even when enlarging the screen, users will be able to enjoy undistorted and sharper text."
Although the firm said it had taken steps to reduce power consumption, one expert suggested using the tech would take its toll on a phone's battery.
"There's only so much detail that a human eye can pick up in a 5.5in screen regardless of how many pixels you manage to cram into it," said Windsor Holden, from the tech consultants Juniper Research.
"Beyond a certain point there is a distinct law of diminishing returns. There's also the fact that the more pixels you have, the more work your graphics processor has to do.
"That has an impact on battery life, which is already being assaulted by a host of other applications throughout the day."
When the HTC J Butterfly and Oppo Find 5 handsets launched last year - the first to feature 5in screens offering 440ppi and "full HD 1080p" - reviewers suggest they did offer a noticeable improvement on what had come before.
However, tech research firm IHS Electronics & Media agreed that screen resolution might become less of a distinguishing factor in the future.
"LG Display will be targeting this screen at the premium market, so showing that it is pushing the technology is important to its business," said analyst Daniel Gleeson.
"But I think we're hitting the point at which consumers are going to focus on other issues when they decide which device to buy because so many handsets already feature a very high resolution."