Steve Ballmer: Microsoft's Mr Monkey Boy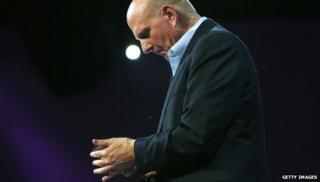 Four words will come to sum up Steve Ballmer's 33 years at Microsoft: "I love this company."
They were shouted breathlessly during a now infamous presentation in 2000 in which a whooping Ballmer bounded across the stage to gee up Microsoft's employees. The clip - which saw him dubbed Mr Monkey Boy - went viral.
In another performance, he perspired his way through a chant of "developers, developers, developers".
As he announced his retirement, the 57-year-old reaffirmed his passion via a company-wide email. "I love this company," he said again - but now the debate has turned to whether his company loved him.
Born in Detroit, Ballmer studied mathematics and economics at Harvard, where he became close friends with Bill Gates, Microsoft's co-founder.
In 1980, Gates hired Ballmer to be the company's first business manager at a time when the firm had just 29 people on its payroll.
He held various different roles at the company over the years, including senior vice-president of sales and support, senior vice-president of systems software and vice-president of marketing.
And in 2000, he took the top job, succeeding Gates as chief executive.
'Email machine'
But the "vision", as the company put it, remained very firmly with Gates - Ballmer's legacy in technology will not be as a Steve Jobs-like innovator, but instead a salesman.
Indeed, it was a slew of bad calls that critics say have been Ballmer's weakness throughout his tenure.
"Microsoft has had a lost decade, missing every big thing that has come along," said Dan Lyons, former technology editor at Business Week.
"When you look at the string of opportunities that Microsoft has let slip through its fingers, it's incredible."
His time at Microsoft has been peppered with foot-in-mouth moments. In 2007, in the days after Apple co-founder Steve Jobs' presentation unveiling the iPhone, Ballmer dismissed the device as being "not a very good email machine" which wouldn't appeal to businesses because of its lack of a keyboard. "We've got great Windows mobile devices," he said.
Today, Apple and Google-powered phones dominate the smartphone market - while the Windows Phone is growing but minuscule in comparison.
And in other areas - such as tablets - the company has been equally slow off the mark.
According to the most recent figures, Microsoft has made just £562m from sales of the Surface, its tablet launched last year with great aplomb. Last month, it wrote down $900m worth of unsold stock.
"We built a few more devices than we could sell," Ballmer admitted.
Xbox success
Yet there have been several success stories during his time at the company.
As chief executive, he nurtured the entertainment and devices division into a major arm of the business - the Xbox being one of the standout successes to come out of the company in recent years.
In his own words, it is Microsoft's work with PCs that Ballmer regards as his greatest achievement. But it is a perceived over-reliance on this part of the business that often irked investors.
Other industry leaders believe that Ballmer's oversight saw Microsoft become a company that depended on people needing its products, rather than wanting them.
"He pretty much oversaw the decline of Microsoft," says Jim McKelvey, co-founder of mobile payments firm Square.
"Microsoft continues to slide into more irrelevance. It's a big company, there's a lot of change that's needed there.
"I think they were very dependent on a monopolistic control. When the internet made operating systems less relevant, Microsoft could no longer force mediocre products on people."
Under Ballmer's leadership, Microsoft tripled its revenues and doubled profits. He himself will leave with a personal wealth estimated to be $15.2bn.
Investors, meanwhile, are optimistic - shares in the firm jumped by 9% at the news.
Follow Dave Lee on Twitter @DaveLeeBBC