UK pirates face intellectual property crackdown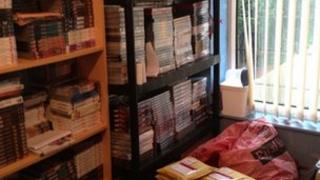 Criminals making money from copyright theft are facing a crackdown in the UK.
The City of London Police launched a unit on Friday dedicated to pursuing serious intellectual property crime.
Detectives arrested two men suspected of importing £40,000 worth of counterfeit DVD boxsets in Birmingham on Friday morning.
Police will liaise with international agencies to tackle digital copyright infringement in the physical production and sale of counterfeit goods.
The Police Intellectual Property Crime Unit (Pipcu) will receive £2.56m funding over two years from the UK government body the Intellectual Property Office.
"Our focus will be the professional criminals using intellectual property crime to generate illicit gains," Det Ch Supt Oliver Shaw told the BBC.
The police will use links at national and international level to pursue suspects, building on existing contacts at agencies such as the FBI and the Department of Homeland Security in the US.
Officers trained in online investigations will act on tip-offs from industry groups to identify UK suspects, and will proactively seek out websites offering illegal goods and downloads.
Website control
The 19-strong unit will have the power to seize goods and assets, and will push internet service providers to take down websites selling spurious products.
Legitimate advertisers unwittingly running ads on illegal websites will be informed to stop advertising payments and disrupt revenue to crime gangs.
The team will also investigate the physical production and sale of counterfeit goods, for example, by pursuing criminals making faked brands of car tyres, said Det Ch Supt Shaw.
The two men arrested in Birmingham were suspected of importing and selling thousands of illegally produced DVD boxsets, the Metropolitan Police Service said in a statement.
UK efforts to counter serious copyright crime include the appointment of an intellectual property adviser by Prime Minister David Cameron.
Conservative MP Mike Weatherley, who will advise the prime minister on enforcement, was appointed on Thursday.
Regulator Ofcom published a report on Wednesday that said almost a quarter of UK downloads infringe copyright.