Blackberry Z30 offers firm's biggest handset yet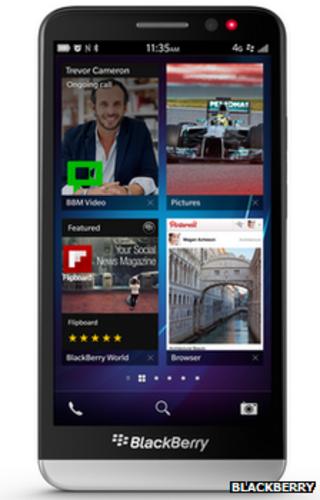 Blackberry has announced its biggest smartphone to date.
The Z30 features a 5in (12.7cm) screen and a relatively large battery, which, the company says, should last more than two days between charges.
It is the first product to be released by the Canadian company since it announced last month that it was considering putting itself up for sale.
Some analysts have suggested a deal could result in its handset division being shut down.
They say the company's patents, software and cash reserves could make it worth about $5bn (£3.1bn).
However, they add the hardware unit itself has "negative value" and any suitor might wish to do a deal in which they did not have to acquire it.
"Why would you want to own a platform that is obviously in decline?" asked Colin Gillis, director of research at investment advisers BGC Financial.
"Android is clearly number one, Apple's iOS is number two, and now Windows Phone is number three.
"Blackberry's hardware and operating system themselves are fine, but there's not much more beyond that - it's not a meaningful platform."
App store gaps
According to market-research company IDC, Blackberry accounted for 9.3% of all smartphones shipped to the UK during the first half of the year, thanks in part to interest generated by the launch of its new operating system BB10.
But its position elsewhere is much weaker. The company only accounted for 1.7% of all smartphones shipped to the US and 0.1% to China, the world's biggest markets, during the same period, according to IDC.
The announcement of the new handset indicates the company wish to emulate the several Android manufacturers who have found success with larger screens.
Samsung and Sony are among the companies that have recently unveiled new so-called "phablets".
But Blackberry faces the problem that its app store is still missing several of the big-name programs available for Google's operating system. One expert warned that the current uncertainty over its future might discourage software writers from filling in those gaps.
"The rumours might affect developers and that in turn might affect consumers - even if many are not aware of the problems that Blackberry currently finds itself in," said Tony Cripps, principal analyst at the telecoms consultancy Ovum.
"The same issue really surrounds a 5in Blackberry device as their other smaller ones.
"By going it alone as far as its platform and ecosystem strategy is concerned, it's pretty much left itself at great risk of not putting together an offering that is very appealing either to the end user or the third-party developers."
System update
Blackberry said the Z30 would be released in the UK and Middle East next week, ahead of other regions.
It is also releasing an update to its operating system - taking it to version 10.2 - which it said offered "hundreds of refinements plus many new features".
These include the ability to preview and respond to messages without having to switch out of whatever app the owner is using, and the introduction of a "priority hub" that groups together information and emails that the device judges to be most important to the user.
The firm said that the update should be available to owners of its existing Z10 and Q10 devices from mid-October.