Apple Maps flaw results in drivers crossing airport runway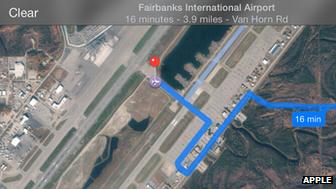 An Alaskan airport has closed an aircraft access route because of a flaw with Apple's Maps app.
Fairbanks International Airport told a local newspaper that in the past three weeks two motorists had driven along the taxiway and across one of its runways.
Apple's app had directed users along the taxiway but did not specifically tell them to drive onto the runway.
The firm has now issued a temporary fix.
Users searching for directions are told they are "not available" rather than showing the earlier route.
A spokesman for Apple was unable to provide comment.
The airport said it had first complained to the phone-maker three weeks ago via the local attorney general's office.
"We asked them to disable the map for Fairbanks until they could correct it, thinking it would be better to have nothing show up than to take the chance that one more person would do this," Melissa Osborn, chief of operations at the airport, told the Alaska Dispatch newspaper.
She added that barricades had since been erected to block access to the final stretch of the taxiway and that they would not be removed until Apple had updated its directions.
The BBC still experienced the issue when it tested the app early on Wednesday, asking for directions to the site from a property to the east of the airport. By contrast the Google Maps app provided a different, longer route which takes drivers to the property's car park.
A spokeswoman for the airport said that Apple had finally disabled the faulty directions at about 19:00BST.
Apple faced criticism after it ditched Google's service as its default maps option last year.
Complaints of inaccuracies followed, including placing Dublin Airport about 17km (11 miles) away from its true location after apparently confusing the site with a farm named Airfield.
The Australian police went so far as to warn that Apple's software was "life threatening" after motorists became stranded in a national park after being given the wrong directions to the city of Mildura, Victoria.
Chief executive Tim Cook posted a letter to the firm's website apologising for the "frustration" caused and promised "we are doing everything we can to make Maps better".
The company has since taken over several other mapping software developers including Locationary, Hopstop and Embark.
Reviews of its latest operating system, iOS 7, noted that its Maps product had improved, with the Guardian newspaper reporting that Apple's "POI (points of interest) database is getting better".
However, the latest mishap indicates problems remain.
Fairbanks Airport said the drivers involved in the 6 September and 20 September incidents had both been from out of town and had ignored signposts warning them that they should not be driving along the taxiway.
"They must have been persistent," the airport's assistant manager Angie Spear told the BBC.
"They had to enter the airport property via a motion-activated gate, and afterwards there are many signs, lights and painted markings, first warning that aircraft may share the road and then that drivers should not be there at all.
"They needed to drive over a mile with all this before reaching the runway. But the drivers disregarded all that because they were following the directions given on their iPhones."
The runway the motorists crossed was used by 737 jets among other aircraft. No one was injured.
"All these types of mapping software have flaws but the problem for Apple is that because it's such a high-profile brand, it gets a lot of attention," said Neil McCartney from the McCartney Media and Telecoms consultancy.
"It's very important for a company in that sort of situation to acknowledge a problem when it is reported and then put it right as fast as possible."
Nick Dillon, senior device analyst at research house Ovum, added that Fairbanks Airport's complaint illustrated how hard the mapping business was to get right.
"With Apple Maps the firm has made a rare misstep by releasing a product which has not lived up to its own high standards.
"Apple evidently did not fully grasp the complexity involved in deploying a mapping service and its continuing woes show that it is not an easy thing to fix."
Related Internet Links
The BBC is not responsible for the content of external sites.