Solving the mystery of why we sleep using DIY tech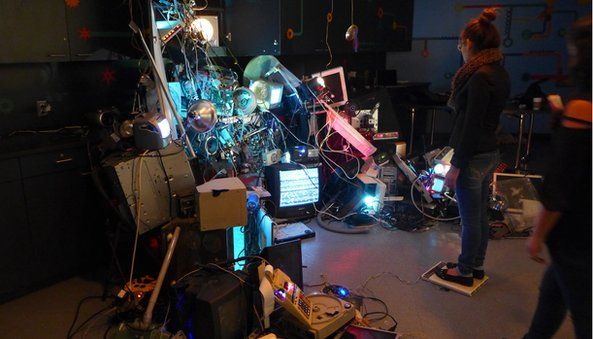 Ever dreamed of being able to build your own house? Craft a perfect cup of coffee? Or even - figure out why you sleep?
For a growing community of people, known as makers, those aren't dreams, but reality.
Held for the first time in 2006, Makers Faires big and small are now held across the globe, where tinkerers can display their creative technological solutions to everyday challenges.
Think of them as giant science fairs for adults and children, where thousands of people congregate around giant fighting robots and life-size mousetraps, displaying their do-it-yourself (DIY) projects.
They're motivated by the belief that a return to the craftsmen days of yore - but with updated tools like 3D printers and open-source controllers like the Arduino - can help solve some of the world's most pressing technological problems.
Here's a selection of some of the most popular ideas from this year's World Maker Faire in New York City, which was attended by more than 70,000 people, who came to explore and learn from 650 exhibitors.
Crowdsourcing why we sleep
"So I'm sitting here with an electrode cap on," says Chip Audette, grinning from ear to ear as his smile is translated into a bunch of squiggly lines on the computer screen next to him.
Mr Audette built a small, open-source electronics board that can connect to electrode caps to help translate brain waves. The board sits on top of an Arduino - which is a hobbyist microcontroller platform popular with many makers. The Arduino allows the board to connect to the computer and, really, anything else.
Mr Audette is working together with three other companies to develop a $30 (£19) package of hardware and software that would allow anyone interested in monitoring their biosignals to see what's happening in their head.
Brent Winslow, whose company is building the software, says the goal is to answer some of the biggest questions confronting neuroscience by crowdsourcing the data from interested hobbyists.
"It's been about 100 years since scientists first started studying the brain, looking for the keys to how we think, and yet, we still don't know why we sleep, we still don't know what emotion is," he says.
What if you could print your own house?
And what if the only tool you'd need to assemble it all was a screwdriver?
WikiHouse wants to allow anyone to design and build their own house - and then print the parts using a network of 3-D printers and workshops around the globe.
WikiHouse hosts the plans, and FabHub.io provides the listing of locations where parts can be printed.
Using a ShopBot printer, the group has already "printed" a plywood house made up of 1,150 individual parts, which was on display.
"We've been barn raising as a culture for hundreds of years - the difference today is that with the internet it's happening simultaneously around the world," says Nick Ierodiaconou, one of the people behind WikiHouse and its sibling, OpenDesk, which allows users to design, print, and then assemble their own furniture.
Disaster recovery - the Pole Bot and the pocket Geiger
A big theme at this year's Marker Faire was how to survive in the event of a natural disaster.
As the first anniversary of Hurricane Sandy approached, a group of high school students from the tiny suburb of Washington, New Jersey, thought about what they had learned from the storm.
"I remember a [radio] dispatch coming out saying, 'Warren County, all receivers, the communication centre has been compromised by the storm,'" says 19-year-old Gavin DeAngelis.
He thought: "If the cell phones are out and the receivers are out, what good is anything?"
So Mr DeAngelis and his high school robotics competition team thought about how to improve communications when the grid goes down.
Their solution? The Emergency Antenna Platform System (E-APS) - or for laypeople, the Pole Bot.
They noticed that emergency crews during the storm set up in parking lots, using generators to power tall lighting poles. So they created an antennae that could "climb" 50ft (15m) up one of those posts to get a better range for a signal that others could use to communicate.
"It's controlled by a DC motor. No software - just a motor and a car battery with a throw switch," says Mr DeAngelis.
Halfway across the world, Yang Ishigaki was confronting the aftermath of a different natural disaster, the earthquake and then tsunami that led to the Fukushima nuclear disaster.
In the days after the disaster, the world's supply of Geiger counters - which can help measure radiation levels - sold out.
"Soon after the accident, we started a project to create [a radiation] detector for everyone in Japan," explains Mr Ishigaki.
Using Kickstarter, Mr Ishigaki and his team raised funds to create a pocket Geiger detector that anyone could use by plugging it into their iPhone or iPad.
More than 12,000 people have purchased the product, which costs anywhere from $30 to $70, depending on the model.
The perfect cup of coffee
Can a robot create the perfect cup of coffee?
"Pour-over coffee has become more and more popular," says Stuart Heys, citing a method of brewing single cups of coffee using precision spouts and special filters popular in coffee shops from Brooklyn to Berlin.
But pour-over coffee is slow, and subject to the particular skills of the coffee maker, or barista.
So, enter the Pour-Steady - the world's first pour-over coffee robot.
"Brewing coffee is all about timing and water temperature. So we're controlling those variables with a robot," explains Mark Sibenac, Pour-Steady's co-founder.
Mr Sibenac and Mr Heys spend their day as freelance robotics designers for Nasa, and they say they've brought the same precision sensibility to the Pour-Steady.
"We sourced the parts for this in eBay, but honestly, they're not that much different from what you'd find on a Mars rover," says Mr Sibenac.
Related Internet Links
The BBC is not responsible for the content of external sites.