Pirate Bay founder faces Danish hacking charges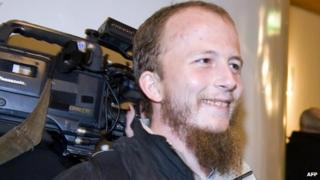 Pirate Bay founder Gottfrid Warg will be deported next week to Denmark to face charges of stealing confidential data.
Mr Warg is being deported from Sweden where he is serving a one-year jail sentence for a separate hack attack.
Danish police want to talk to him about a hack attack on computers holding police files.
Last month, Mr Warg wrote to the Swedish government urging it not to let him be extradited.
In his letter he said it had been shown that his computer, which was used in the Danish hack, could have been controlled remotely and the attack carried out by someone else.
The Swedish government threw out his request and he is now due to be transferred to Denmark on 27 November.
In Denmark, Mr Warg is suspected of being involved with an attack that took place between April and August last year on computers run by services company CSC. Mr Warg and a Danish accomplice are accused of downloading lots of files from CSC mainframes that included documents about wanted criminals.
Mr Warg was deported from Cambodia to Sweden to answer charges relating to his involvement with the notorious Pirate Bay file-sharing site. Once in Sweden he had to face separate charges relating to an attack on IT firm Logica. An initial two-year sentence for this hack attack was reduced to a year on appeal.