Instagram adds direct messaging to take on rivals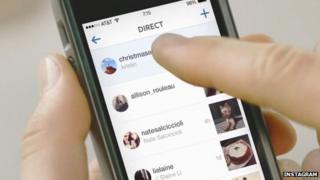 Photo and video sharing app Instagram has added direct messaging to its service in a nod to the success of rivals such as Whatsapp and Snapchat.
Instagram Direct lets users send a picture or video to up to 15 people, without it appearing to the public.
Only someone a user "follows" on the service could send them a direct image, founder Kevin Systrom explained.
He dismissed suggestions that the app may soon add a Snapchat-style "disappearing" photograph option.
But the new Instagram features do borrow various popular aspects from its rival:
images and video can be sent to individuals or a group
the sender is notified when the content has been viewed
small amounts of text can accompany the message
Only images and video from people a user already followed on Instagram would be automatically shown, Mr Systrom said, but other users could send content that would appear only when the recipient agreed to view them.
He added that Instagram would not monitor messages for explicit or offensive content - but that the usual reporting methods would apply to private messages as well as those shared publicly.
Mr Systrom did not elaborate on whether the feature would be used to deliver advertising directly to user's private inboxes.
IHS mobile analyst Jack Kent told the BBC that making money from the feature would be a secondary concern to Instagram - which is owned by Facebook - at this stage.
"When you look at Facebook's wider strategy with new services and features, the first goal isn't necessarily monetisation," he said.
"It's building on maintaining scale. With these new features, it's about maintaining and growing the audience."
Messenger threat
Instagram was bought last year by Facebook for $1bn (£629m), at a time when it shared only photographs, often with "artistic" filters applied.
Gradually, the app has grown - the most significant addition being the option to share 15-second video clips, emulating Twitter's short video service, Vine.
It has also added advertising into users' feeds.
But it is instant messaging that has Instagram and Facebook looking over their respective shoulders.
According to reports, one of the most popular apps, Whatsapp, has grown to boast 350 million active users worldwide - compared with Instagram's 150 million.
Other competitors, such as Viber and Kik, have also gained rapid popularity. Snapchat, an app in which messages "self destruct" after 15 seconds or less, reportedly turned down a $3bn takeover offer from Facebook.
Furthermore, some studies have suggested that teenagers are moving away from Facebook, frustrated that a social network that was once dominated by their peers now attracts their parents.
Mr Kent said Thursday's Instagram announcement was all about maintaining and growing an audience by incorporating features users are have started to use elsewhere.
"Instagram so far has been built on public profiles," he said. "But more recent successes in the social networking space have been around private interaction."
Twitter, which has had direct messaging since its inception, recently expanded its offering to allow the private sending of images and other media.
Follow Dave Lee on Twitter @DaveLeeBBC