Superfast broadband - are we getting there?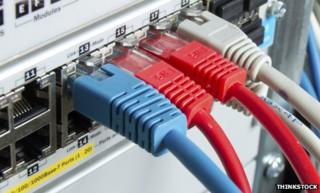 Today, according the Department of Culture, Media and Sport, is Super Switch On Day.
Rural communities across the UK are getting access to superfast broadband for the first time as fibre cabinets are switched on. "Rejoice!" is the message - we're on our way to achieving the government's ambition of giving the UK the best fast broadband in Europe. So should we believe the hype?
Well, scratch the surface of the press release and you find that what is being celebrated is superfast access for another 5000 homes and businesses in Wiltshire and South Gloucestershire, Hampshire, Kent and Medway, Cheshire, the Cotswolds and Shropshire. Great news for them - but not a huge number.
The government goes on to say that a total of 200,000 premises will have been given access by Christmas. That, by my reckoning, is 1% of UK households, and as the rural broadband programme is supposed to serve the 30% which will not be reached by the market, there is obviously quite a way to go.
We know that the whole programme has suffered repeated delays, and the original target of 90% coverage by 2015 has been modified - the plan now is to provide for 95% of homes by 2017.
And whenever I raise the issue, I get a flood of messages from people across the UK angry that they are still missing out on any kind of decent broadband connection.
Here are a few responses I got on Twitter today when I asked whether superfast broadband had arrived in rural areas:
"I live in central Edinburgh. No sign of any fast broadband. Only 500m from Scottish parliament. Too many cobbles!"
"Living in Rotherhithe, we are not expecting better than 3-4 megabits anytime soon, because of long exchange only lines."
"It'll reach Borsetshire before it reaches rural north Herefordshire."
"Far from it in north Monmouthshire. Can't even watch YouTube on TV at home!"
But I've also been looking at some research on how we compare with other countries - and, believe it or not, the news here is quite good. A report by the telecoms analysts Analysys Mason found that the UK was outperforming other major European economies in a number of areas, and was well placed to lead Europe by 2018.
Both access to superfast broadband and take-up were ahead of the likes of Germany, France and Italy. Now it has to be stressed that the report does not include countries such as Sweden, the Netherlands and Denmark, and it was commissioned by BT - which has won every local authority rural broadband contract so far.
But another research company Point Topic backs up the view that the UK is doing OK. Its report this summer predicted that the government's target of 95% coverage by 2017 would be achieved. Oliver Johnson from Point Topic says, "Although BT started late it is now living up to its promises. We will certainly be top of a number of metrics when it comes to comparing with the major European economies."
Many communities remain deeply frustrated by the slow pace of the rural broadband programme and the arguments over exactly which areas BT plans to cover. That in particular has caused a lot of anger for those trying to get community broadband projects off the ground. But, even though we often assume that we do these things worse than other countries, the evidence is that in villages in Bavaria or Brittany, you will hear the same moans about slow broadband.