Cryptolocker ransomware has 'infected about 250,000 PCs'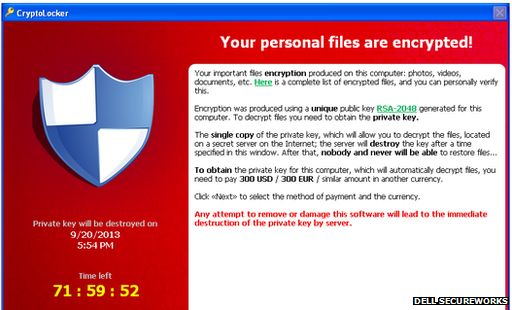 A virulent form of ransomware has now infected about quarter of a million Windows computers, according to a report by security researchers.
Cryptolocker scrambles users' data and then demands a fee to unencrypt it alongside a countdown clock.
Dell Secureworks said that the US and UK had been worst affected.
It added that the cyber-criminals responsible were now targeting home internet users after initially focusing on professionals.
The firm has provided a list of net domains that it suspects have been used to spread the code, but warned that more are being generated every day.
Ransomware has existed since at least 1989, but this latest example is particularly problematic because of the way it makes files inaccessible.
"Instead of using a custom cryptographic implementation like many other malware families, Cryptolocker uses strong third-party certified cryptography offered by Microsoft's CryptoAPI," said the report.
"By using a sound implementation and following best practices, the malware authors have created a robust program that is difficult to circumvent."
The first versions of Crytpolocker appear to have been posted to the net on 5 September.
Early examples were spread via spam emails that asked the user to click on a Zip-archived extension identified as being a customer complaint about the recipient's organisation.
Later it was distributed via malware attached to emails claiming there had been a problem clearing a cheque. Clicking the associated link downloaded a Trojan horse called Gameover Zeus, which in turn installed Cryptolocker onto the victim's PC.
By mid-December, Dell Secureworks said between 200,000 to 250,000 computers had been infected.
It said of those affected, "a minimum of 0.4%, and very likely many times that" had agreed to the ransom demand, which can currently only be paid in the virtual currencies Bitcoin and MoneyPak.
"Anecdotal reports from victims who elected to pay the ransom indicate that the Cryptolocker threat actors honour payments by instructing infected computers to decrypt files and uninstall the malware," added the security firm.
"According to reports from victims, payments may be accepted within minutes or may take several weeks to process."
Dell suggested PCs be blocked from communicating with the hundreds of domains names it had flagged as being linked to the spread of Cryptolocker, and it suggested five further steps the public and businesses could take to protect themselves:
Install software that blocks executable files and compressed archives before they reach email inboxes
Check permissions assigned to shared network drives to limit the number of people who can make modifications
Regularly back-up data to offline storage such as Blu-ray and DVD-Rom disks. Network-attached drives and cloud storage does not count as Cryptolocker can access and encrypt files stored there
Set each PC's software management tools to prevent Cryptolocker and other suspect programs from accessing certain critical directories
Set the computer's Group Policy Objects to restrict registry keys - databases containing settings - used by Cryptolocker so that the malware is unable to begin the encryption process
Related Internet Links
The BBC is not responsible for the content of external sites.