Ford reveals solar-powered car with sun-tracking technology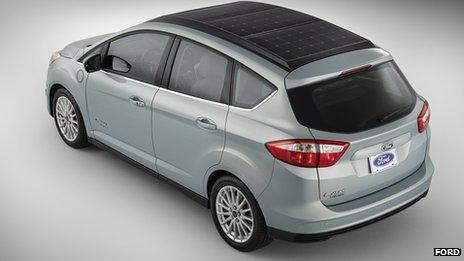 Ford has unveiled plans for a prototype solar-powered hybrid car.
The Ford C-Max Solar Energi Concept has a solar panel system on the roof which tracks the position of the sun. The company said it can draw power equal to a four-hour battery charge.
Fully charged, the car could travel for up to 21 miles powered just on electricity.
The concept car will be on display at CES in Las Vegas before testing begins to see if production is feasible.
The solar panel roof will use a separate off-vehicle solar concentrator lens, similar to a magnifying glass, to ensure it absorbs enough energy. The Fresnel lens will follow the movement of the sun from east to west and direct sunlight to the solar cells which project researchers say boosts the impact of sunlight by a factor of eight.
Ford claim that a day's worth of sunlight will produce the same performance from the Solar Energi Concept as is given by their conventional plug-in hybrid car. Both vehicles would have the same range of 620 miles.
The concept car - which was developed from a collaboration between Ford, the Georgia Institute of Technology and SunPower Corp, a solar power company - will still have a conventional electrical charging socket so its charge can be topped up from the power grid.
But Ford claims that by using the solar power system drivers will not be dependent on the grid to use the car.
Research from the company suggests that in future the sun could power up to 75% of all trips made by an average user in a solar hybrid vehicle.
However, it may be a while before solar panel cars are a common sight on the road, said Damion Smy from Car Magazine.
"What Ford has done here is clever use of solar technology, as it assists battery charging.
"Solar power could be used to run ancillaries, such as air-conditioning, but the limited capability for solar panels means that we won't see them used as the main power source anytime soon," he said.
Another car manufacturer reported to be unveiling new technology at the Consumer Electronics Show (CES) is Audi. They will be showcasing cars which use the Android operating system, which is normally found on smartphones and tablets, at the event which starts on the 7 January.
Related Internet Links
The BBC is not responsible for the content of external sites.