Evernote to focus on fixing bugs after complaints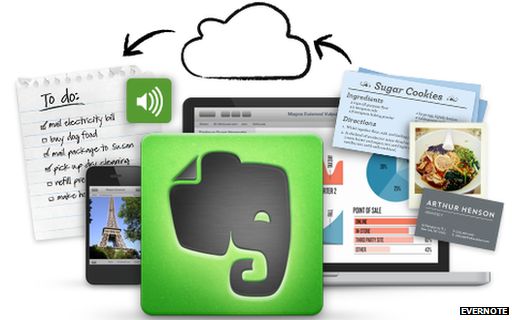 Evernote has promised to focus on tackling stability problems rather than adding new features after complaints about its record-keeping apps.
Founder Phil Libin acknowledged that the release of an app for Apple's iOS 7 had proved particularly "frustrating" after bugs had "disproportionally hit longer-term customers".
The blogger had listed a series of faults including lost sound recordings.
"Instead of building a product that is secure, reliable, and fast, it has spread itself too thin, trying to build out its install base across as many platforms as possible in an attempt to fend off its inevitable competition," Mr Kincaid wrote.
Mr Libin responded: "Jason's article was a painful and frustrating experience because, in the big picture, he's right. We're going to fix this."
Evernote allows its 80 million users to record and tag notes, photos, sounds, webpages and other content. They can then be searched and viewed via a variety of apps that run on PCs, phones and tablets as well as via the firm's website.
The California-based company makes money by charging for premium features, including an increased storage allowance.
It competes with Microsoft's OneNote, Google's Keep and Springpad, another start-up.
Mr Kincaid is an influential US journalist with more than 28,000 Twitter followers, who previously worked for the news site Techcrunch.
On Friday he documented his frustrations after Evernote's tech support had failed to solve why some of his audio recordings were becoming corrupted and others vanishing altogether.
In addition he complained that the firm's image editor Skitch had failed to synchronise captured pictures because he had not installed the latest version, while its browser extensions - used to take a copy of webpages - frequently crashed.
However, he appeared most concerned by a privacy issue that he only stumbled upon while raising the other issues.
Evernote offers a "quick note" feature, available via the menu bar of Mac computers, that allows users to jot down messages without having to switch to its main app.
Mr Kincaid discovered that text written using the facility was copied into the app's Activity Log - data used by support staff to identify problems.
The writer discovered the flaw when he decided to double-check the contents of his Activity Log after Evernote's workers had asked to see it to help them study his sound recording problems.
He said it was only his "paranoia" that prevented him from sending over some "deeply embarrassing musings" about sex that he had written earlier.
"I am alarmed that Evernote seems to be playing fast and loose with the data entrusted to it," he exclaimed.
Mr Libin denied there was an "inherent privacy problem" with Evernote.
But he acknowledged there had been a menu bar bug, which had since been fixed. He added that users would now be warned that other personal information, such as the title of their notes and their notebook names, could still be transmitted if they emailed in their Activity Logs.
"Over the next few months, we'll be releasing new versions of all the apps that incorporate our many lessons learned about what does and doesn't work," he added.
"Our new philosophy is to find every spot in our products where we've been forced to make a trade-off between doing what's simple and doing what's powerful, then rethink it so that the simplest approach is also the most powerful."
One company watcher commended his quick response.
"Many start-ups face similar issues when success comes quickly and is huge, and they have to support a lot of people on their service at the same time as trying to keep ahead of their competitors," said Carolina Milanesi, from the tech consultants Kantar Worldpanel.
"Obviously you can't go out and say 'we suck', but admitting that you have had problems and are fixing them can be very important to your customers."
Mr Kincaid also appears to be impressed by Mr Libin's post.
"@plibin your candour is encouraging - looking forward to the improvements," he tweeted.
Related Internet Links
The BBC is not responsible for the content of external sites.