New York Times ad prompts debate over Twitter copyright
By Joe Miller
BBC News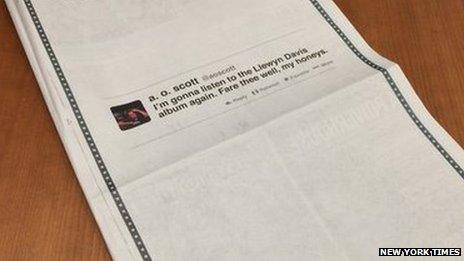 A newspaper advertisement featuring a tweet by a film critic has prompted debate about social media copyright.
A full-page promotion for the Oscar-tipped movie Inside Llewyn Davis appeared in the New York Times on 4 January, prominently displaying an edited tweet by A O Scott.
Scott says his permission was sought, but he did not give consent.
One lawyer told the BBC that a case could be made against the advertisers but that the law was "still in flux".
Scott, who is one of America' s leading film writers, had originally tweeted about the soundtrack of the Coen brothers' celebrated new film: "You all keep fighting about Wolf of Wall St. and Am Hustle. I'm gonna listen to the Llewyn Davis album again. Fare thee well, my honeys."
He was subsequently contacted by the film's promoters, who asked if they could use a shortened version of the tweet for their ad.
Scott declined, saying that it seemed like "a slippery slope and contrary to the ad hoc and informal nature of the medium".
Despite this exchange, the ad was published with a modified version of the tweet, mocked up to look like it had not been edited. It contained just the last two sentences of Mr Scott's original text.
It is thought that the tweet was edited because the rules of the Academy of Motion Picture Arts and Sciences, which awards the Oscars, does not allow negative campaigning.
Scott took to Twitter to express his surprise at his tweet being used, saying: "We have reached a strange new place in marketing when tweets become full-page print ads."
Dale Cendali, a lawyer who specialises in copyright, trademark and internet practice at Kirkland and Ellis LLP told the BBC that the law "is still adjusting" to the rights of those publishing on social media platforms.
"There have been a lot of cases, but few have conclusively determined what people's rights are," she said.
She added that Scott did own the copyright to his tweets, and could make a claim over "fake endorsement" and a possible violation of Twitter's terms and conditions.
But Ms Cendali said that Scott had "volunteered this statement in a public way".
Ultimately, Scott seems to have taken the event in good humour, tweeting soon after the event: "Now I'm going to get off Twitter for a bit and listen to some music. Not saying which music."
Related Internet Links
The BBC is not responsible for the content of external sites.