CES 2014: What does the show mean to Las Vegas?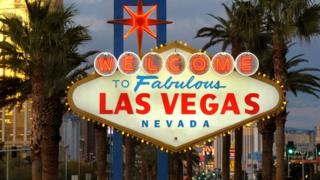 When CES hits Las Vegas, everyone knows.
The panhandlers on the pedestrian walkways peddling their CDs, the street performers dressed as wookies, storm-troopers and minions from Despicable Me, the cab drivers and the cashiers in the shops up and down The Strip.
But does the impact of CES go further than just the name?
CES looms large on the calendar of anyone involved with technology, be they making the stuff or selling it, but does it matter to Las Vegas as a whole?
"Shows like CES are a big deal for Vegas," said former resident Marc Rogers who now helps to organise the annual DefCon hacker conference in the city.
"These shows do represent quite a large amount of money and it's a different type of money for the place," he said.
Before now, said Mr Rogers, the typical visitor was someone that came for the gambling and spent the majority of their money in the casinos.
By contrast, he said, visitors to trade shows and conventions tend to spend their money in other places away from the roulette wheels, poker pits and blackjack tables.
And the sheer number of people attending the show, upwards of 155,000 in total, undoubtedly had a big impact, said Dawn Christensen, a spokesman for the Las Vegas Convention and Visitor Authority (LVCVA).
Sin city
Las Vegas has been the convention capital of the US for the past 19 years.
CES stands out even though 53 of the largest 250 trade shows in the US are held in Vegas every year.
"It's the largest show of the year and a great one for Las Vegas," said Ms Christensen.
All those folk attending for the week of CES generated about $195m (£130m) of income for the city, she said, adding that all the economic activity directly supported about 1,400 jobs.
CES and the thousands of other shows like it held in Vegas had also helped it become known as more than just a place to gamble, drink and party, she added.
"The trend over the last few years is that more and more people are coming to Vegas to do other things besides gaming," she said.
"They are going shopping, seeing entertainment or are going to nightclubs and day clubs."
But, said Mr Rogers, there were some downsides to the influx of visitors attending the bigger trade shows.
Knowledge about which show was on when and which hotel or convention centre is hosting was widespread, he said, even among the city's criminal fraternity.
DefCon had experienced problems in the past with criminals targeting show goers because they presented such rich pickings.
Bitcoin brothel?
"Criminals around here know that at these events people are carrying a ton of tech," he said. "We've had to work with the local police in the past to deal with that."
Fast response times by the police and advice about which places to avoid helped to ensure people stayed safe, he said. The police were keen to act quickly, he added, because visitors who had a bad experience were much less likely to return.
Vegas might be changing but there are some people who come to the city for CES who clearly have not and enjoy themselves doing the things that won it the name of Sin City.
"During CES week we have the largest conference-related spike in visitors," said Dena, the madam of a brothel called Sheri's Ranch that is located in neighbouring town of Pahrump.
In an email exchange with the BBC, Dena said profits were typically up 70% during CES week.
"While some of this traffic comes from repeat visitors who use CES as an opportunity to book an annual tryst with their favourite courtesan, the vast majority of visits come from walk-ins who take advantage of our free limo service from Las Vegas," she said.
About 24 women were due to be working each day during CES to cope with the number of callers, she said.
"A CES visitor is as unique, or as commonplace, in their sexual desires as anyone else," said Dena. "My girls are very capable of making those desires a reality, whether a client wears Google Glass or carries a cell phone from 2002."
The annual influx of CES attendees has got the brothel considering adopting bitcoins as a payment mechanism. The anonymity it offers could help protect the identities of visitors.
"As it continues to grow in popularity, and if our clients desire it, Sheri's Ranch will very likely implement a bitcoin point-of-sale system in the future," she said.