Chinese New Year: Baidu tracks 1.3 billion urban exodus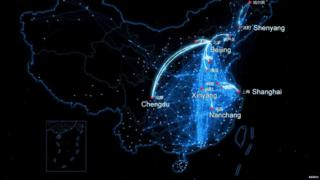 As billions of Chinese people prepare to celebrate the new year, social network Baidu - often referred to as "China's Google" - has been tracking the mass movement of people out of the country's cities and into the countryside.
The interactive map, which is updated hourly, has been made by logging where data requests were made to its maps service and other apps that use its location technologies.
The thicker, brighter lines are the busiest routes.
An estimated 1.3 billion people make this kind of journey every year - with millions more travelling in from abroad to join the celebrations, which kick off on Friday.
At this time of year, Beijing's main train station is frequently referred to by locals as the "busiest place on the planet".