Flood Hack event looks to help relief efforts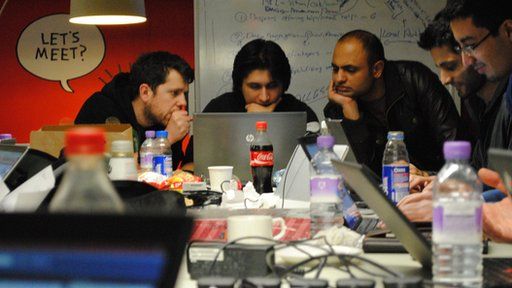 It took place in drier conditions than other flood relief efforts, but a gathering of developers in east London hoped to contribute to those affected.
A Flood Hack event, instigated by Number 10, briefed teams to use newly available government data to create useful resources and digital services.
Engineers from Microsoft, Facebook and Google were all present, as were many independent developers.
The event prompted calls for more data to be made freely available.
Until this weekend gathering, flood data held by the Environment Agency was only available to those willing to pay a licensing fee, described by several attending Flood Hack as "out of reach" of typical start-ups.
The agency has been keeping the data available for three months, but said it hopes to make it accessible for longer.
Michael Cross, a journalist and campaigner for free data, said Flood Hack demonstrated data could be used to produce innovative public services - but that there was still a reluctance by government to press ahead with releasing more of it.
"The main issue we come up with is not just about money, it's about giving up control," he told the BBC.
"There's still this mindset in high places that they don't want to let people get hold of this data, because they don't know what they're going to do with it."
He added: "The best way to use it, both to improve its accuracy and to improve national wealth, is for the government to just let go of it."
The event, attended by about 100 people, had only been formalised on Friday evening after the agency, which sent its own developers to take part, was able to make the necessary data available.
The statistics included readings, updated every 15 minutes, from every flood sensor in the UK - effectively giving the hackers live data on the situation across the country.
"The question was: what can we do?" said Gerard Grech, formerly of Blackberry, and now chief executive of Tech City UK, the government quango established to support technology start-ups.
"The idea came up that we should do a hackathon with our tech community and look at how we can open up this data that the government has."
Like physical measures such as better, stronger flood defences, funding for digital efforts will be part of the flood debate once the water levels have returned to normal.
None of the Cabinet Office spokespeople attending would be drawn on the future of the projects developed at the event - or if any government funding would be given to successful ideas.
Mr Grech added: "It depends how you define 'money'.
"The point is, when you're driven by a cause like this, it brings people into a room, it forces government to be even more responsive, to look at what it can do in its processes and its structure to be as responsive as possible."
On Sunday, Prime Minister David Cameron tweeted: "Great to see the UK's digital community coming together to develop tech solutions to respond to flooding."
Twenty "hacks" were presented to a panel of judges at the end of the event. No winner was declared; instead, notable entries were given nominal prizes.
Among the stand-out entries was a method of instantly reporting damaged flood defences, a problem apparently plagued by hoax reports, according to the Environment Agency team at the event.
Another team presented an idea to automatically push out SMS text warning messages to people in flood areas, based on what mast they were getting their signal from.
"A lot of people here could easily forget that not everybody has a smartphone and is ready to install some emergency response app on a whim," said George van den Driessche, a Facebook engineer who worked on the entry.
"There are plenty of people who are a few generations of phone behind."
Developers representing uSwitch.com put together a simple page to tell people the right numbers to call in the case of a power cut, noting that existing pages were needlessly cumbersome.
Many of the hacks made use of FloodVolunteers.co.uk, a website set up on Tuesday, which sought to create a database of available helpers that could assist those in flood-hit areas.
The site was created at the request of the Cabinet Office.
By the weekend, it was attracting around 100,000 page views a day, its creator Aurore Hochard told the BBC.
However, a Cabinet Office spokesman could not confirm if the site would be funded for flood help in the future.