European visitors 'turn phones off' to avoid charges
By Dave Lee
Technology reporter, BBC News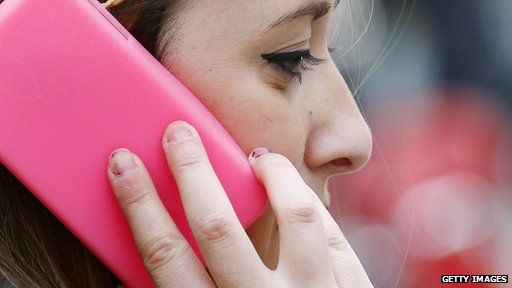 More than a quarter of European visitors turn their phones off to avoid the risk of roaming charges, research from the European Commission suggests.
A survey of 28,000 people across the EU said 47% of respondents also did not use mobile internet while travelling.
European Commission Vice-President Neelie Kroes said she was shocked by the figures, which researchers believe reflect a fear of high charges.
"It shows we have to finish the job and eliminate roaming charges," she said.
"It's not just a fight between holiday-makers and telecoms companies.
"Consumers are limiting their phone use in extreme ways, and this makes no sense for the companies, either."
Ms Kroes added: "Millions of businesses face extra costs because of roaming, and companies like app makers lose revenue, too. Roaming makes no sense in a single market - it's economic madness."
Telecoms analyst Matthew Howett told the BBC: "I don't think the findings are that surprising. Customers can come back to nasty bill shocks when they use their phone abroad."
For the UK, the study data suggested that as many as 37% of British travellers turn off their phones when outside the country.
Across Europe, the Commission's study suggested that 94% avoided using Facebook and Twitter when in an EU country other than their own, and 70% of people who call other EU countries limit the amount of time they spend doing so.
The European Commission argues that this behaviour is hurting other businesses, such as the creators of app makers with travel guides, and that networks are in fact missing out on revenue by not lowering their prices to a level where consumers feel comfortable.
In the past year, the commission has stepped up its efforts to force mobile networks to drop charges for customers while they are travelling around the continent.
In September, it announced its intention to scrap roaming charges entirely by 2016.
Before then, charges for receiving incoming calls are "on course" to be ditched. The current estimate is July this year.
Mr Howett said many of the networks had been left frustrated by the proposals, which come at a time of massive spending on infrastructure.
"They are having to make some fairly significant investments in 4G networks across Europe," he said.
"By giving [the networks] this quite lethal kick at this time it is quite painful for them, as they're trying to invest."
The final proposals must be approved by the 28 EU members and European lawmakers before they can be put into effect.
The European Commission said it hoped to end roaming charges altogether by 2016.