'Stolen' Twitter username 'returned'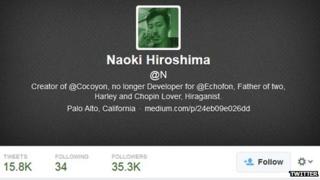 Twitter username @N - which had allegedly been stolen - has been returned to its original owner.
Naoki Hiroshima, who had held the Twitter handle since 2007, claimed last month that a hacker had stolen it.
He had said at the time that someone took control of his other online accounts and threatened to compromise data and websites owned by him, forcing him to give up the handle.
On Wednesday, Mr Hiroshima tweeted: "Order has been restored".
"This is a happy ending not only for me but also for sane employees and loyal users of Twitter's. Congrats to those, too," he added.
However, he did not mention how he got back the control of the handle.
In a previous blog post Mr Hiroshima had claimed that he had earlier been offered $50,000 (£30,000) to sell it and people had tried to "steal" it before.
Mr Hiroshima said his Twitter name was considered rare as it only contains one character.