World Cup 'threat' from web activists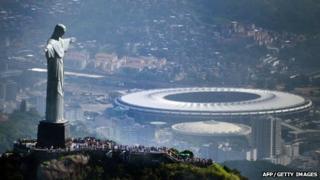 Brazilian online activists are threatening to disrupt the 2014 Fifa World Cup, it has been reported.
A group that affiliated itself to the loose collective known as Anonymous said it would target official websites.
There have been major protests in Brazil against what some have said is an overly extravagant outlay.
The Brazilian Army admitted it could not provide complete protection, but insisted it would respond to the most likely threats.
"We are already making plans... I don't think there is much they can do to stop us," one activist - who went by the alias Eduarda Dioratto - told the Reuters press agency.
The activists reportedly said that the World Cup offered an unprecedented global audience and an opportune moment to target sites operated by world football's governing body Fifa, the Brazilian government and corporate sponsors.
'Fast and damaging'
"The attacks will be directed against official websites and those of companies sponsoring the cup," an activist known as Che Commodore said.
He added that the most likely tactics would be to launch distributed denial of service attacks, which flood target websites with traffic and cause them to crash.
"It's fast, damaging and relatively simple to carry out," Che Commodore told Reuters.
He said his colleagues' fire would not be turned on ordinary Brazilians, however. And, despite the government's preparations, the activists said they were confident of success.
"It's nothing out of this world", said one called Bile Day. "Security remains very low."
Reuters said it was unable to independently verify the true identities of the people it had contacted online.
The tournament is expected to cost about 33bn Brazilian real (£8.4bn), and the level of expenditure has highlighted the inequalities present in Brazil.
Kicks off
A series of protests during last year's Confederations Cup - seen as a warm-up for this summer's main event - drew more than a million people on to the streets.
Brazil's race to get its stadiums ready for the tournament, which kicks off on 12 June, has dominated the headlines so far.
But experts agreed that little attention was being paid to the country's telecommunications infrastructure, Reuters reported.
The country suffers from overstrained networks, widespread use of pirated software and low investment in online security, as well as a sophisticated domestic cyber-criminal community, which is already disrupting ticket sales and other World Cup commerce.
"It's not a question of whether the cup will be targeted, but when," said William Beer, a cyber-security expert with the consultancy firm Alvarez & Marsal.
"So resilience and response become extremely important."
General Jose Carlos dos Santos, the head of the cyber-command for Brazil's army, said: "It would be reckless for any nation to say it's 100% prepared for a threat.
"But Brazil is prepared to respond to the most likely cyber-threats."
A Fifa spokesman declined to comment on online security.