Bafta fellowship for Rockstar Games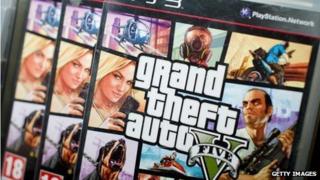 The makers of the Grand Theft Auto video games series are being awarded a Bafta fellowship.
Rockstar Games will be presented with the award at the British Academy Games Awards ceremony on 12 March.
The award is the highest accolade given by the Academy and is in recognition of an "outstanding contribution to film, television or games".
Previous winners include Gabe Newell from video game company Valve and Peter Molyneux, creator of Dungeon Keeper.
In a statement, Bafta said the Grand Theft Auto series, as well as other games including Manhunt, Bully and Red Dead Redemption had kept Rockstar Games "at the forefront of the gaming industry for over a decade".
'Incredibly humbling'
Harvey Elliott, chairman of Bafta's Games Committee, said: "The creativity and passion exhibited by the Rockstar teams have inspired a generation of game developers to raise the bar in every aspect of game development.
"From design and mechanics, through to storytelling, cinematics and audio immersion, and in the process creating games that compete so profoundly on a global stage across all entertainment media."
Sam Houser, founder of Rockstar Games, called the award "incredibly humbling".
"We have long believed in the potential for video games to become a new form of cultural expression and worked to show that in our games. This honour reflects the creative vision and dedication of a huge number of people over many years," he said.
Grand Theft Auto 5 is the latest edition to the series and when it was released in 2013 it became the fastest selling entertainment product ever, taking just three days to generate $1bn (£598m) in revenue.
It is nominated in several categories at the 2014 awards including Game Innovation and Best Game.