Tech City: Where is the UK's Mark Zuckerberg?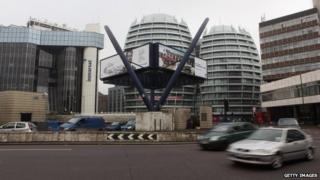 The Silicon Roundabout is going around in circles.
Since 2011, the Old Street area of London - with its magnificent(ly ugly) roundabout - has been regarded as the home of the Tech City initiative, a government scheme to help nurture home-grown technology companies.
And it was here, at an event on Thursday, London Mayor Boris Johnson outlined what he said was his "vision" to make London the technology capital of the world. It included the formation of a new London Tech Ambassadors Group, nine influential figures that will travel the globe in an attempt to lure companies to London.
If some of Mr Johnson's "vision" sounded familiar to followers of the industry, it was with good reason: it came more than three years after David Cameron said much the same thing.
By attracting and building big tech companies, the prime minister said in 2010, the gritty corner of east London hipsters call their own could thrive on the global stage - and the next Facebook could be a company built in Britain.
But several years on, the UK's Mark Zuckerberg-in-shining-armour is yet to show up.
Why not?
'I need half a billion dollars'
"This sort of thing is going to happen eventually," Mr Johnson told the BBC.
"There is no question in my mind that London will eventually produce one of the great global leaders in tech like Facebook or Amazon or Google or whatever. It is just a matter of time."
His hopes could lie with Michael Acton Smith, founder of children's social network Moshi Monsters - and the fashionable poster-entrepreneur for east London start-ups.
"I would like to see more entrepreneurs keep their chips on the table and build massive successes here in London," he told the BBC.
"And it is risky doing that. Who knows, you can be roaring one minute, and down the next. That is what makes the world so exciting."
Mr Smith has confirmed his company, Mind Candy, is planning to float on the stock market. But he would not be drawn on when - or more importantly, where - his plans for that lie.
Shunned London
And for Tech City, that is a worry.
Earlier this week, London-based games developer King - famous for the Candy Crush games - confirmed it wanted to raise $533m (£321m) in a stock market flotation, valuing the company at almost $7.6bn.
News to make the politicians and backers of Tech City rejoice, you would think. But in a sucker-punch move, King shunned the London markets in favour of the New York Stock Exchange.
The firm hasn't commented on its reasons - companies must be tight-lipped ahead of a float - but most in the industry agree that US policies designed to help start-ups are behind the decision.
Specifically, Barack Obama's Jumpstart Our Business Startups Act - known as the Jobs Act - was designed to lessen the regulatory hoops small businesses were required to jump through in order to float. Furthermore, it makes it easier to crowdfund - that is, gather lots of small investments from a large number of people.
But Mr Johnson suggested that was not a policy problem, but more a case of stereotypically British caution that was holding the country back.
A reluctance, he told the BBC, to think big.
"You remember that scene in the Social Network, that movie about Facebook.
"There's that absolutely amazing moment when Zuckerberg goes into the bank and he says 'I need half a billion dollars' and the bank says 'you bet'. I doubt that we would have that in Britain.
"You need people to have the courage. In a way, some of the American ambition and willingness to think huge needs to come here. In this country we have a different sort of culture. We are a little bit nervous of that kind of approach."
'Chips on the table'
Comparatively speaking, London is lacking in such start-up friendly policies as the US.
While there has been some policy effort - lowering visa restrictions for getting in skilled entrepreneurs and developers, and in-roads in loosening financial reporting requirements - it has been criticised in the past for putting more effort into promotional activity.
While Mr Johnson spoke in London, the prime minister was busy promoting the UK Israel Tech Hub, a joint effort between the two countries designed to tempt promising Israeli firms into the UK. It seems to be working - several firms have hinted plans to float their businesses in London.
Until Tech City can claim those successes, it will need to look creatively at ways to stress its significance.
A Tech City Map, launched in 2011, boasted 1382 start-ups.
But today, by drastically broadening its scope to include the whole of London, Tech City said there were 34,400 digital technology businesses to be proud of.
"I think they are including everyone with a computer," quipped one start-up owner, who did not want to be named.
Follow Dave Lee on Twitter @DaveLeeBBC