Papers, Please: The 'boring' game that became a smash hit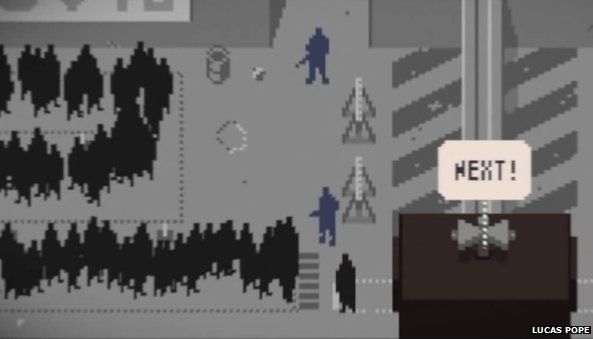 If video gaming is designed to be a form of escapism, why would anyone choose to escape to a dead-end, soul-sucker of a job?
"You play a border inspector at a contentious check-point," says Lucas Pope, 36, the developer responsible for the most unlikely of smash hits.
"People are coming into your booth, and they want to get from one side to the other. You've got to check their documents and make sure everything's in order before you let them through.
"It's hard to describe the game and make it sound fun."
Papers, Please can lay claim to being the first ever paperwork simulator. You could say that's a void that nobody thought needed filling. You'd be right.
And yet, Mr Pope has somehow created a tense, gripping game - a claustrophobic thriller that has been soaked with praise by the critics.
"Papers, Please is self-evidently designed to make you think, it's not entirely meant to be fun," says Nicholas Lovell, from Gamesbrief.com.
Most of all it is an antidote, Mr Lovell says, to the all-blasting, all-killing romps that have historically populated the gaming charts.
And at Wednesday's video game Baftas, Papers, Please has a shot at being named "best game".
"It's really insane," Mr Pope says, almost embarrassed at the nomination. It's one of four awards he could win on the night.
Papers, Please's appearance at the event will be made even sweeter because of the journey that lead to its creation.
In the same room - and with a considerably bigger entourage - will be Mr Pope's former employers, Naughty Dog. Their game, zombie-thriller The Last of Us, is also up for best game.
Mr Pope left the company after working on the massively selling Uncharted series and deciding to go it alone, to the understandable surprise of many of his colleagues.
"Leaving Naughty Dog was a really risky move," he says.
"Having this kind of success, and now being alongside them, is a big relief - I didn't pass up a great job and go on into ruin."
The independent developer scene is a mixture of people like Mr Pope - disenfranchised programmers who became sick of working on the nth shoot-'em-up sequel - and newcomers to the industry frustrated at a lack of entry-level jobs.
"If you're passionate about games you will make games," says Harvey Elliott, chairman of the Bafta games committee.
"It's a great case study of what you're capable of."
The amount of attention being heaped on indie games is growing, and the likes of Sony and Microsoft are carefully courting the best to release games on their consoles.
It's a movement that is yielding some extremely creative results, argues Mr Lovell, and straying into a level of experimentation where big games companies don't dare to tread.
"Big developers absolutely could make those kind of games," he says. "In the same way that Hollywood could make thoughtful movies - but chooses to make the Avengers instead."
Independent developers have always existed, but of late there has been a perfect storm of new technology coming together to solve problems that kept indie games from competing on the biggest stages.
"I started in games when you needed to press discs and put them in expensive boxes and ship them to stores," says Mr Pope, who tried and failed to launch a games company in the 90s.
"That kind of up-front money was just insane. That's all gone now. Just getting from game to consumer is much cheaper now and much easier, and that only helps create this smaller and more experimental games."
And then there's the not-insignificant financial incentives.
While not pulling in the $1bn-plus revenue of Grand Theft Auto 5, Papers, Please's commercial success is more than enough to turn heads.
Mr Pope is coy about the exact revenues, but with over half a million copies sold, with the full-price set at $10 (£6), it's unquestionably a tidy little earner for a development team of one.
It all means that while Papers, Please was a surprise nominee at this year's Baftas, we should get used to seeing smaller titles muscling in from here on in.
"There will definitely be more of those titles coming through," says Harvey Elliott from Bafta.
"But equally we can't underestimate the quality of those big titles - it's a worthy battle."