Titanfall problems hit launch but 'now resolved'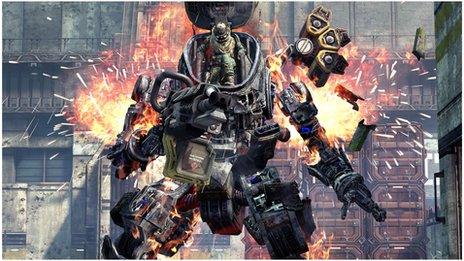 PC and Xbox One users have reported problems logging on to Microsoft's eagerly-awaited game Titanfall, which launched on Tuesday.
The multiplayer-only title requires people to log into its servers to play.
Some reported they were stuck at a screen that read "initialising", and while the issue was eventually solved after several hours, users dubbed the launch "Titanfail".
The game is published exclusively for Microsoft by Electronic Arts.
It is being seen as an opportunity for Microsoft to boost sales of its Xbox One console in the face of competition from Sony's PlayStation 4.
Electronic Arts (EA) has previously come under fire for the troubled launches of titles SimCity and Battlefield 4.
One user of EA's forum was frustrated at not being able to connect.
"Should have known EA would fail on release. Before taught me nothing," wrote HammerMcDoogan.
But Larry Hryb from Microsoft's Xbox team took to Twitter to reassure users there were no problems with the game itself.
"If you are having issues signing into Xbox Live, we are aware of it and actively working on the issue. This is not a Titanfall issue," he said.
Some on social news site Reddit seemed to be more accepting of the teething problems, however.
"It's arguably the biggest game of this year, the first day or two will be iffy like this. Calm down," posted one user.
"It's really hard to keep servers up on day one. Not saying they shouldn't have been prepared, but the servers likely just got flooded - nothing they can do about it at this point except wait for traffic to die down," said another.
"Thanks for your patience. Xbox Live is good to go!"
Titanfall developer Jon Shiring also tweeted: "Patch is out. Things are starting to recover quickly now."
Related Internet Links
The BBC is not responsible for the content of external sites.