A tasty tech takeaway for London?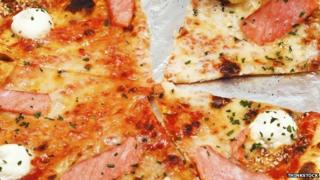 The champagne corks must be popping at the London Stock Exchange - and maybe at the headquarters of Tech City, they'll be ordering a takeaway chicken korma to celebrate.
Having wooed all sorts of technology companies in the hope of having a high profile stock market flotation - and seen most swept off their feet by those flashy US exchanges - London has at last bagged one.
The online takeaway food service Just Eat has confirmed this morning that it will list its shares on the London Stock Exchange (LSE). We knew for a couple of months that this was coming, but the confirmation will be something for boosters of London's tech cluster to trumpet.
Just Eat is part of what you might call the Scandi-UK trend - firms which started in Scandinavia but have a big presence in London. Sweden's Spotify is one, the Candy Crush Saga games firm King.Com is another. But King's initial public offering (IPO) is set for the New York Stock Exchange and it is hard to see Spotify deciding to float anywhere but in the US, its biggest most important market.
So London will have to settle for Just Eat, a firm which started offering a platform for takeaway food merchants in Denmark but whose biggest market is now the UK. Last year two thirds of its revenue - around £69m - came from UK takeaway orders, and its margin of 37% appears to show that hungry British customers are the basis for a very profitable business. In total it serves 13 markets, including Ireland, Canada and Spain.
We won't know how the company will be priced until it actually comes to the market, but there is talk of a valuation as high as £900m. At a time when shares in technology businesses are scaling new heights, it would not be surprising to see Just Eat become a billion pound business. Just by comparison, the discount retailer Poundland floated at a valuation of £725m last week, and had revenues roughly 10 times those of Just Eat last year - although its margins were of course much slimmer.
Good news for London then - but there are a few questions to be answered. Can a business so heavily dependent on UK consumers really grow that rapidly? Isn't this a market which will be rapidly invaded by other entrants, putting the squeeze on Just Eat's healthy margins? And is a firm which is really about delivering hot food by moped really a technology business?
When I put these questions by phone to Just Eat's chief executive, David Buttress, he has a robust response. "We're very much an international business," he tells me, when I ask whether overseas consumers would be quite so keen on a takeaway curry or pizza. "We've got 16,000 restaurants outside the UK."
He says the online takeaway business is still in its very early stages - "the main competition is the telephone" - and that means there is plenty of room for growth. As for the threat of competition and my question about technology, the two are linked. "This is a completely technology-enabled company. We take 900 orders every minute, every restaurant has a Just Connect terminal and that has taken many years to build." In other words, the barriers to entry are already very high.
He points out that Just Eat has also been quick to develop mobile apps, and in a world where the mobile internet is becoming the standard platform for online commerce, that experience will be hard for anyone else to replicate.
Mr Buttress also praises London's support for hi-tech businesses but says the decision to float here is all about "what is right for Just Eat."
Last week the London Mayor Boris Johnson re-designated Tech City as covering the whole of the capital which he described as Europe's biggest hi-tech cluster. That will have caused raised eyebrows in various places, not least in Cambridge, the birthplace of some of the UK's hi-tech superstars like chip designer ARM and bluetooth specialist CSR.
Now London may have its own billion pound business to brag about, albeit one which was founded long before the government began to market Tech City. So there is a lot riding on the Just Eat flotation. All eyes will be on the LSE to see if investors swallow it up and order another one - or send it back as lacking sufficient nutrition.