Ted 2014: Larry Page on Google's robotic future
By Jane Wakefield
Technology reporter, Vancouver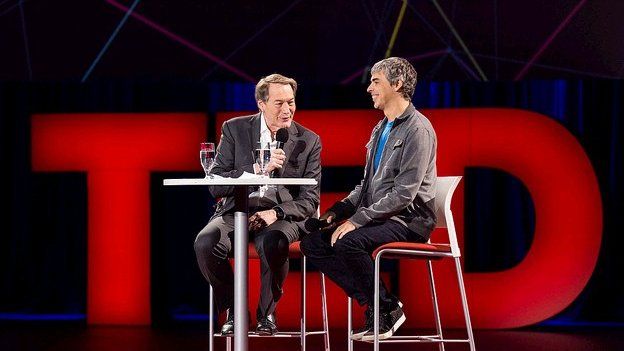 Larry Page wants patients to hand over their data to researchers in order to save "100,000 lives".
It's just one of the ideas expressed in a wide-ranging interview at the Ted (Technology, Entertainment and Design) conference in Vancouver.
Google's co-founder criticised the US government for its mass surveillance programs.
But he added that consumers need to accept that a new era of open data is inevitable.
Interviewed on the Ted stage by US television host Charlie Rose, Mr Page was asked why Google bought the UK machine learning firm DeepMind.
"I was looking at search and trying to understand how to make computers less clunky and also thinking about how speech recognition is not very good," said Mr Page.
"We are still at the very early stages with search. Computers don't know where you are and what you are doing," he added.
He was drawn to DeepMind because it had helped make computers smarter - teaching them how to play computer games.
"It was really exciting, we have not been able to do this before. Imagine if that intelligence is thrown at your schedule," said Mr Page.
He said that Google was working on its own machine learning project, using YouTube to "teach" computers.
"It has learnt what cats are," he said.
Mr Page was also asked about the Edward Snowden revelations, following a surprise appearance from the whistle-blower at Ted.
"It is disappointing that the government secretly did this stuff and didn't tell us about it," said Mr Page.
"It is not possible to have a democracy if we have to protect our users from the government. The government has done itself a tremendous disservice and we need to have a debate about it," he added.
Google has had its fair share of criticism for the way it collects users' data. It is currently embroiled in a row with European regulators over its privacy policy.
Mr Page was in defiant mood and warned that people were at risk of "throwing out the baby with the bathwater" over plans to tighten privacy.
"We are not thinking about the tremendous good that can come with sharing information with the right people in the right ways," he said.
He said that anonymised medical records should be made available to researchers.
"It could save 100,000 lives this year," he said.
Health data has personal resonance with Mr Page who developed a hoarse voice after a cold 15 years ago from which he has never recovered. Sharing details about his condition helped him, he said.
"I was scared to share but Sergey [Brin] encouraged me and we got thousands of people with similar conditions," he said.
Mr Page also talked about some of his "crazy ideas", including Google Loon, a project to use balloons to provide internet access to parts of the world without any.
He revealed that he got the idea off the ground with a Google search.
"I found that 30 years ago someone had put up a balloon and it had gone round the world multiple times," he said.
He realised that a similar thing was possible to connect the two-thirds of the world that have no net access.
"We can build a world-wide mesh of balloons to cover the whole planet."
Google plans to launch its automated cars on the roads by 2017. The project has been a personal obsession for 18 years, he told the Ted audience.
"It started when I was at college in Michigan. I was waiting for the bus and it was cold and snowing," he said.
He believes that automated cars can help save lives - currently 20 million people are injured each year in car accidents and in the US crashes are the biggest cause of death for the under-35s.
He finished the interview with a call to firms to embrace new technologies.
"Most businesses fail because they miss the future," he said.
It is a mistake he has made himself, he added.
He said that he "felt guilty for wasting time" working on the Android operating system, which at the time was a side project for Google.
"That was stupid, it was the future," he said.
Related Internet Links
The BBC is not responsible for the content of external sites.