HTC's time to refocus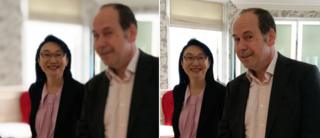 It was by common consent the standout smartphone of 2013. The HTC One, with its sleek steely looks and its zippy performance, won all kinds of awards. But what it didn't do was sell enough to pull HTC out of its downward spiral. So can the new version, the catchily named HTC One (M8), pull off the trick of delighting the critics and proving a massive sales hit?
HTC certainly needs some good news. Last year it had just 2.2% of the smartphone market according to the analysts IDC - down from nearly 9% two years earlier. The company made its first ever quarterly loss last year, though it was in good company - apart from Samsung and Apple, everyone is struggling to make money in this business.
I got a brief chance to try the new HTC One this morning in the company of the firm's co-founder Cher Wang. It's another good-looking, nice feeling, all-metal device with one standout feature - a camera that allows you to perform all kinds of tricks with a picture after it has been taken.
The Duo camera enables you to change which area of the picture is in focus, so that those photos where you find you've focused on the building in the background rather than the person in front of it won't be such a problem in future.
The phone also has excellent speakers, producing the kind of sound you used to expect from something much bigger, and it features the latest version of HTC Sense, the software overlay that provides a customised version of Android. A quick demo revealed an experience not unlike the Flipboard app, delivering news, weather and your social media comings and goings with a few swipes of a finger.
Here's the problem. I've no doubt that for the kind of people who pore over the list of technical specs when choosing a new smartphone, the HTC One (M8) will prove a popular choice. But that's a minority.
To most of us, these days just about every smartphone looks the same - an oblong pane of glass with some icons. I rather suspect that if you walked out on the street and showed this phone to a crowd, many would struggle to distinguish it from a Samsung Galaxy S5 or a Sony Xperia Z1 or an LG G2.
So in the end it all comes down to marketing - how big a budget you have to make your phone stand out from the crowd. Cher Wang admits that this is a challenge for HTC. "We have to communicate better. If we go out and actually communicate with our customers, I think they will love it."
It is hard to see how HTC can outspend the mighty Samsung, although Ms Wang contends her firm will win by spending its money more smartly. Some, however, may question whether the name HTC One (M8) is such a smart piece of branding. She made a brave prediction that HTC would increase its market share this year - "2014 is HTC's year", she told me.
Right now, the firm is in 10th place in IDC's smartphone league - Samsung with 31%, and Apple with 15% are way ahead of the rest of the pack. Four Chinese firms, Huawei, Lenovo, Coolpad and ZTE, are all ahead of HTC, and they, too, are likely to have more to spend on marketing - and a bigger base in their home market - than the Taiwanese phone-maker. Then there's Nokia, which under the new ownership of Microsoft should also have quite a substantial war-chest.
The smartphone business is beginning to look a bit like football's Premier League - only the richest have any chance of winning. The concern for HTC must be that it will continue to muddle along in the middle of the table - and that looks like a very unprofitable place to be.