Samsung 'puzzled' by early S5 smartphone launch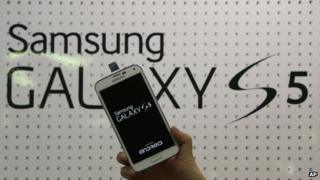 Mobile operators in South Korea have started selling Samsung's flagship Galaxy S5 phone three weeks early.
Due to go on sale on 11 April in South Korea, the S5 is already available from three operators, including the country's biggest network.
The three are selling the phone now to get round government restrictions on to whom they can sell new handsets.
Samsung said it was "very puzzled" by the operators' actions and was deciding how to respond.
SK Telecom, KT Corp and LG Uplus have all been able to start selling the S5 because Samsung has already shipped large numbers of the handset to them prior to the official launch.
Many Korean mobile firms are facing a ban on signing up new customers, imposed by the country's telecommunications regulator. The operators are being punished for using illegal subsidies to attract new customers.
The ban on SK Telecom, the country's biggest operator, comes into force on 5 April and lasts for 45 days. Selling the S5 now means it can make up some of the sales it would lose if it waited until the ban expires - well after the official S5 launch date.
KT Corp and LG Uplus are already subject to restrictions that limit to whom they can sell phones. In reaction, the operators are selling the phone to those customers not covered by the restrictions.
The Galaxy S5 was launched at the Mobile World Congress show held in Barcelona late last month. Samsung said the early sales of the S5 in Korea would not affect launch dates for the phone elsewhere in the world.