Airbnb in court over housing laws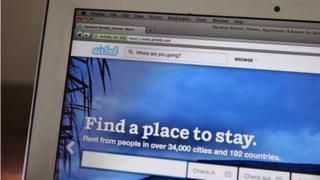 Airbnb, the website that allows homeowners to rent out properties online, is to appear in court in New York in a dispute over housing and hotel laws.
The New York attorney general has asked Airbnb to disclose information about its users who may be acting illegally by renting out their homes.
Airbnb says the laws in question were not meant to apply to people who occasionally rent out their properties.
It is challenging the request for data.
New York laws prevent homeowners renting out their entire homes for fewer than 30 days to prevent illegal hotels from operating. But according to reports, court documents filed by the attorney general say that more than 60% of Airbnb listings in New York City break that law.
The documents also show that some users were offering multiple properties for rent.
"Airbnb is simply looking out for its bottom line at the expense of a law that protects quality of life for building residents and safety for tourists," Matt Mittenthal, a spokesman for Attorney General Eric Schneiderman, said in a statement to Bloomberg.
Support homesharing
In a blog posted on the Airbnb website, the company's head of global public policy, David Hantman said: "The vast majority of our community members are regular New Yorkers just trying to make ends meet.
"Short-term rental laws were never meant to apply to New Yorkers occasionally renting out their own home."
The attorney general issued a subpoena last year to find out if Airbnb was being used by the operators of illegal hotels and whether users were paying the appropriate state tax.
The company has called the attorney general's request for data on its users a "government-sponsored fishing expedition" and is in court to challenge the subpoena.
It announced this weekend via another blog on its site that it had removed the accounts of users who had multiple listings on the site and that they would not be allowed to relist, although bookings already made would be honoured.
Last week the New York Post reported that apartments for rent on Airbnb in Manhattan were being used as temporary brothels. The company said it was co-operating with the police on the matter.
"The entire hospitality industry deals with issues like this, and we have zero tolerance for this activity," it said in a statement.
In Mexico, one hotel owner has listed all its rooms on Airbnb in place of a traditional booking system.
"Airbnb doesn't actually have a category for a hotel," said Stu Waddell. "I call myself a hotel. When I explain it, I say it's between a hostel and a boutique."
Airbnb's website explains that it is the responsibility of the homeowner to ensure they are not breaking any local laws or regulations.
"We are working with governments around the world to clarify these rules so that everyone has a clear understanding of what the laws are. In the meantime, please review your local laws before listing your space on Airbnb. By accepting our Terms of Service and activating a listing, you certify that you will follow your local laws and regulations."
Mr Hantman points out in his blog that other cities are changing their laws to "support homesharing".
"Hamburg, then Amsterdam, and now France have all changed their laws and to support homesharing. San Francisco might be next. Someday, New York will join them," he said.
It was recently reported that Airbnb had secured investment of $450m (£266m) which would value the home-sharing site at $10bn.