University of the People - where students get free degrees
By Jane Wakefield
Technology reporter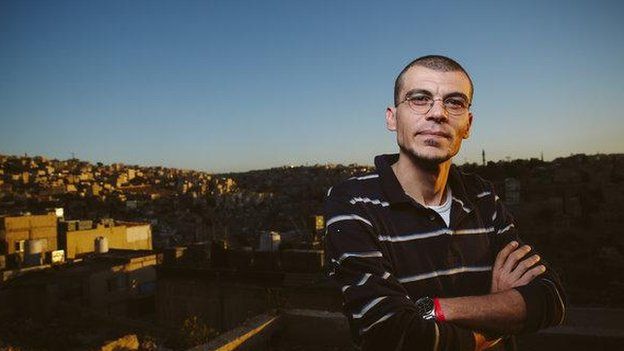 Ali Patrik Eid is a happy man right now. A few weeks ago he graduated from a university that he didn't pay a penny for. He didn't even have to show up for lectures.
And when his wife gave birth to twins shortly after he started his course in business management, it was no problem for him to take six months off to help take care of them.
He was attending the University of the People (UoPeople), one of a growing number of online universities which are opening new doors to people, particularly in the developing world.
"I have always dreamt about having a degree but I didn't think I ever would," the 34-year-old Jordanian told the BBC.
Online learning courses are not new - the University of Phoenix, for example, has been offering 100% online learning since 1987 - but the UoPeople is the first tuition-free online college that grants degrees.
Students are asked to pay a $100 (£58) fee for every exam they take but if they can't afford it, they can take advantage of a range of available scholarships.
Mr Eid did not pay for any of his 35 exams and assumes that "they were funded".
Last year Microsoft announced that it would provide 1,000 students in Africa with internships, technical training and mentoring as well as paying their exam fees at the UoPeople.
The university has also recently signed an agreement with the Nigerian government to provide scholarships for potential students.
Last month the university was granted official accreditation from the US Distance Education and Training Council (DETC), which is likely to raise its status significantly.
It was launched in 2009 by Israeli entrepreneur Shai Reshef, who believes that access to higher education is a basic right that should be available to all.
"We are failing millions who want to study but can't access it. In large parts of the world, higher education is unattainable for ordinary people," he said.
"I wanted to create an alternative, to disrupt the current education system."
It currently offers only two degrees - the business administration course that Mr Eid opted for and another in computer science.
The university is deliberately low-tech. Although students need a basic internet connection, broadband is not necessary and there is no audio or video content.
Applicants must be above the age of 18, proficient in English and able to prove that they have successfully completed high school.
Currently the university has 700 students from 142 countries, but Mr Reshef hopes that by 2016 the numbers will have increased to 5,000.
He put in $3.5m (£2m) of his own money to get the project off the ground but it now runs on an annual budget of just $1m.
Costs are kept down because there are no bricks-and-mortar sites to maintain or text books.
"Even the professors which are the most expensive thing traditionally come free to us," said Mr Reshef.
He has 3,000 of them signed up from prestigious universities such as Yale, Oxford and Columbia.
The relationship between students and their volunteer lecturers isn't always a smooth one though, revealed Mr Eid.
"I had some difficulties with one of the instructors. He wasn't helping me at all and was taking a few weeks to get back with answer to my questions."
"No-one forced them to volunteer and if they have done so they need to stick with it."
The UK pioneered distance learning with the Open University - and in the 1970s late night broadcasts from bearded lecturers became part of OU folklore.
Despite its black-and-white past, the organisation has always embraced new technology and last year teamed up with a consortium of 21 other universities to form Futurelearn, and to offer so-called Moocs (massive open online courses).
Moocs are becoming increasingly popular. In the US, virtual education platform Coursera, set up by Stanford academics, signed up more than four million students in its first 18 months.
Moocs worry some who see them as a threat to traditional higher education.
They are certainly changing the economics, allowing one professor to teach hundreds of thousands of students.
"It means that colleges can share lecturers, and this may represent a threat to jobs," said Dr William Lawton, director of the Observatory on Borderless Higher Education.
But he doesn't believe that universities will disappear in the near future. Increasingly, universities will offer a mixture of offline and online courses, he thinks.
Drop-out rates on online courses are high. A recent study from the University of Pennsylvania found that of one million people who signed up for a Coursera course from June 2012 to June 2013 only 4% completed the classes.
A lot of that is down to the fact that many people currently taking Moocs are not necessarily seeking serious qualifications, Dr Lawton believes.
"The majority do it out of personal interest or self-betterment."
At the UoPeople things are different. The students expect to get as good a degree as one offered by a bricks-and-mortar US university and are prepared to work hard to achieve it.
To help combat the lack of campus atmosphere, they are placed in a virtual classroom with between 20 and 30 others and encouraged to talk to each other online.
"Every student must contribute to discussions," said Mr Reshef.
Mr Eid said that he "got to know" students and teachers, and still kept in touch via email and Skype.
But the question remain, just how valuable is a degree from such an institution?
Mr Eid does not yet have a job and admits that at one interview he attended in the United Arab Emirates the interviewer had never heard of the university. Despite this, he said, the prospective employer was "happy" with the degree Mr Eid presented.
He is now considering starting his own business, inspired by his time at the university.
"I dreamed all my life to be my own boss, and doing this course, I have learnt how to manage a business from scratch. So if I can find financial help, hopefully I will do it."
Related Internet Links
The BBC is not responsible for the content of external sites.