Google+ boss Vic Gundotra quits after eight years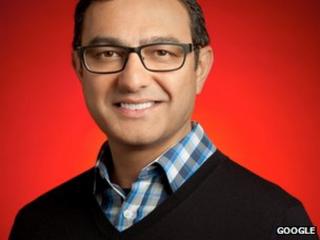 The man who created social network Google+ is to leave the company, the search giant has confirmed.
Vic Gundotra had been at Google since 2007, and was the company's vice-president for social media.
While boasting a large number of users, Google+ is still considered to be very much in the shadow of other networks - particularly Facebook and Twitter.
Chief executive Larry Page thanked Mr Gundotra for "all his hard work and passion" at the company.
"You cut your teeth on our mobile apps and developer relations, turning our disparate efforts into something great," Mr Page wrote.
"You built Google+ from nothing. There are few people with the courage and ability to start something like that and I am very grateful for all your hard work and passion.
"Good luck with your next project after Google. In the meantime we'll continue working hard to build great new experiences for the ever increasing number of Google+ fans."
Toned down
Mr Gundotra, who previously worked at Microsoft, will be replaced by David Besbris, who is currently vice-president of engineering on the network.
Google+ was launched in June 2011, and the latest figures released by the firm suggest it has 540 million users.
But the technology community has regularly disputed the site's popularity.
Some have speculated that Google's plans for the network may be toned down following Mr Gundotra's departure.
Technology news site Techcrunch quoted two sources as saying that between 1,000 and 1,200 Google+ employees were being moved to other parts of the company.
However, a spokesman told technology news site CNet: "Today's news has no impact on our Google+ strategy - we have an incredibly talented team that will continue to build great user experiences across Google+, Hangouts and Photos."
The site cited a source at the company as saying Mr Gundotra had fallen out with Google's senior management.
His next move is not yet known.
News of his departure first became known via Secret, an app for spreading gossip popular among Silicon Valley workers.
"Vic Gundotra is interviewing," said an entry posted on the service earlier this week. With "interviewing" understood to mean having a job interview elsewhere.