Game of Thrones author George RR Martin: 'Why I still use DOS'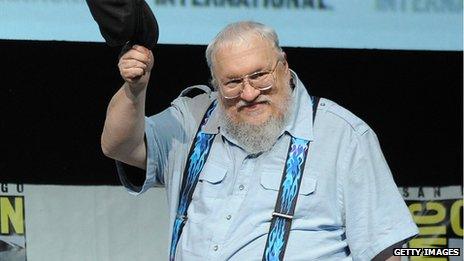 Game of Thrones author George RR Martin has explained why he does all his writing on an obsolete disk operating system (DOS) computer - because it does not correct his spelling.
He said he did not want a modern PC that amended his writing as he typed.
The writer of the books on which the TV series is based first revealed he used the archaic system in 2011.
Speaking on US chat show Conan on Tuesday, he said he kept a second computer for browsing the internet.
He said he never feared a virus infecting his computer and deleting his work because he had a "secret weapon".
Martin added: "I actually like it, it does what I want a word-processing programme to do and it doesn't do anything else. I don't want any help, you know?
"I hate some of these modern systems where you type a lower case letter and it becomes a capital. I don't want a capital. If I'd wanted a capital, I'd have typed a capital. I know how to work the shift key. Stop fixing it."
He said: "I actually have two computers. I have the computer that I browse the internet with, that I get my email on and I do my taxes on. Then I have my writing computer, which is a DOS machine not connected to the internet. Remember DOS? I use WordStar 4.0 as my word-processing system."
And he said that he hated spell-checking programmes because they were unlikely to recognise a lot of the words in a fantasy novel.
In a blogpost in 2011, he intimated that he considered himself a "man of the 20th Century, not the 21st" and a "dinosaur" because, while he had been using a computer for 20 years by that point, he was still using the outdated system to write.
He called it the "Duesenberg of word-processing software (very old, but unsurpassed)", referring to the long-since dead American car manufacturer.
And he said he personally was a user of neither Facebook, nor Twitter at that time. Instead, he allowed a friend to post on the sites on his behalf.
Disk operating system computers were popular in the 1980s and early 1990s.
And the system remained in widespread use up to around the turn of the century - but some already considered it outdated by the time Martin's first instalment in the series was published in 1996.
Related Internet Links
The BBC is not responsible for the content of external sites.