GCHQ-backed competition seeks new recruits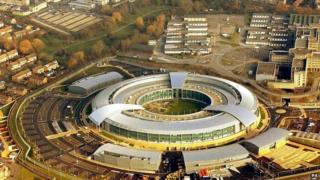 A new competition backed by GCHQ and the National Crime Agency is looking for members of the public to demonstrate their digital skills.
Dubbed the Cyber Security Challenge, contestants will participate in various cyber-battles.
In the fifth challenge of its kind, participants must stop a fictitious enemy known as the Flag Day Associates.
A spokesman from the NCA said he did not expect public distrust in GCHQ to affect the number of applicants.
Those who take part in the new competition will be briefed on an impending cyber-attack, before being asked to analyse and report their findings to officers at the NCA's National Cyber Crime Unit.
"We hope that the new challenges will test those who may want to pursue careers in cybercrime investigations," said Challenge developer Adam Kramer.
Those who rank highest during the initial assignment, known as Opening Lines, will qualify for face-to-face cyber-battles, which will run throughout the rest of the year and determine the final team responsible for defeating the Flag Day Associates at the Masterclass final.
The fictional enemy was first revealed at the end of the Masterclass awards ceremony in March this year in a video featuring three masked individuals.
Joe Harris, a finalist in the 2013-14 competitions, unearthed additional secret details embedded within the video, which revealed the date of a fictional cyber-attack.
Snowden leaks
Organisers say the challenge is "aimed at attracting talented people into the profession and informing them about cybersecurity careers and learning opportunities".
But the event comes at a controversial time for the UK's existing cyber-spies.
GCHQ, which is sponsoring the event, has come under close scrutiny after leaked documents released by US whistleblower Edward Snowden detailed allegations about the organisation's involvement in mass surveillance techniques.
Stephanie Daman, chief executive of Cyber Security Challenge and Kevin Williams of the National Crime Agency said they did not believe that an increased distrust in governmental cybersecurity following revelations made by whistleblowers would affect application numbers.
"We've seen absolutely excellent take-up from our earlier competition," said Mr Williams, who added that sometimes negative views of the organisation could increase interest. "People want to find the truth out for themselves," he said.
"Do we really think GCHQ operations affect us on a daily basis?" asked Ms Daman, "I would say it's the banking system, or the ability not to do your Waitrose shop. At another level it's the ability to have electricity in your house.
"Cybersecurity underpins so many things - GCHQ is just a small piece of a much bigger puzzle. I can understand why it might be troubling for some people, but I think the focus on GCHQ misses the much broader picture."