Panasonic recalls laptop and tablet batteries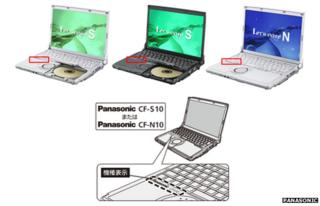 Panasonic is recalling more than 43,000 laptop battery packs after three of them overheated and caught fire.
It said that two of the accidents occurred in Japan this year and the other was in Thailand in 2013.
The batteries were sold to Asia-based consumers with two types of laptops - Panasonic's CF-S10 and CF-N10 series - between April and October 2011.
However, the company has also announced a separate recall in Europe as a safety precaution.
This second callback involves an unspecified number of battery packs sold with its Toughbook CF-H2 tablets between June 2011 and May 2012.
"Because of a manufacturing problem, these particular battery packs may overheat and, in rare instances, cause the notebook to ignite," it said in a statement.
Jan Kaempfer, a spokesman for Panasonic, told the BBC that the firm was not aware of any cases in which the tablets' batteries had caught fire and that the move was simply a "precautionary measure".
Conductive materials
Panasonic said that no-one had been hurt in any of the Japanese or Thai incidents.
It added that it believed the problem might have been caused by conductive materials getting stuck to the batteries' seals, causing them to smoke and catch light after repeated charges.
The announcement comes about six weeks after Sony announced a recall of its Vaio Fit 11A laptops because their non-removable battery packs - also manufactured by Panasonic - posed a fire risk.
However, Mr Kaempfer said that this was unrelated to the latest recall.
Although Panasonic manufactures an adapted type of laptop battery to power Tesla's electric cars, Mr Kaempfer stressed that the batteries involved in the two recalls were different from those used by the US carmaker.
Panasonic reported its first annual profit in three years last month, thanks in part to growing demand for its vehicle batteries.
The Japanese firm is not the only manufacturer to face such a problem in recent months.
In March, Lenovo recalled 117,732 batteries for its ThinkPad laptops, while Summer Infant has had to recall about 800,000 batteries for its baby monitors after it received about two dozen reports of them overheating and smoking.