Almost 2,000 kids questioned over social media abuse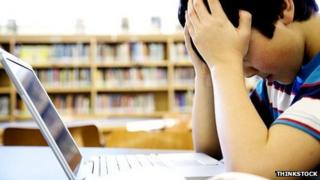 Almost 2,000 children in the UK have been investigated for social media abuse, offensive Twitter messages and online bullying since 2011, it has been revealed.
A Freedom of Information Act request by Sky News revealed that 1,200 were then either charged with an offence, given a caution or fined.
The figures showed that 20,000 adults were also investigated in that time.
Of those, 11,292 were subject to police action of some kind.
In Tayside, a nine-year-old was given a warning along with four 10-year-olds.
Eighteen police forces were unable to provide data on online abuse, preventing a fuller picture being established.
Nuisance
But 34 forces around the country were able to disclose the number of investigations launched under Section 127 of the 2003 Communications Act.
The law covers abuse which takes place on social media, via text messaging or nuisance phone calls.
Concerns raised last year about the volume of investigations led to new guidance being issued, raising the threshold for action.
Hertfordshire Police recorded the highest number of investigations last year, looking into 1,042 cases - up from 291 in 2011.
Over three years, the Metropolitan Police had the highest figure, investigating 2,099 incidents.