Apple in row with start-up over HealthKit name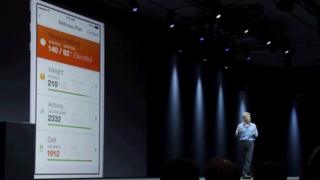 An Australian start-up has taken Apple to task for using the name HealthKit for its new fitness platform, announced at its developer conference this week.
Apple's version will allow users to run health and fitness apps and share data on upcoming operating system iOS 8.
But an Australian start-up of the same name said it has already laid claim to the title.
It has begun a Twitter campaign urging users to contact Apple about the "naming fiasco".
On the firm's blog, co-founder Alison Hardacre said that she had found out about the name clash when, at 04:30 "someone emailed me to ask whether Apple stomped all over your name or did we do a secret deal with them".
"HealthKit is already in use, by us! As an Apple fan, I feel let down. They didn't feel that they had to do a quick domain search - it would have taken five seconds to type www.healthkit.com into their browser and discover us," she added.
The service it offers is very similar to the one Apple plans to launch, a health platform connecting doctors and patients.
The firm bought the HealthKit domain name in 2012. It also uses the Twitter name @HealthKit.
It is unclear yet whether the start-up will sue Apple over the name clash or indeed whether it has a case to answer as some commentators have pointed out that Apple's Healthkit is the name of the application programming interface (API) rather than a product name.
Apple did not immediately respond to the BBC about the issue. According to Healthkit, Apple has also not yet contacted it.