E3: Naughty Dog co-founder joins Facebook's Oculus VR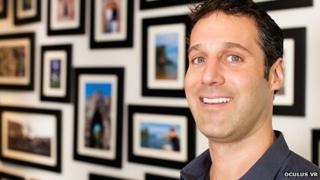 Jason Rubin, co-founder of the PlayStation games developer Naughty Dog, has joined Facebook's Oculus VR virtual reality unit.
Mr Rubin helped create the Crash Bandicoot franchise, and later served as president of another developer, THQ, before it collapsed last year.
He joins another games icon, Doom-creator John Carmack, at the business.
The appointment coincides with the E3 games expo, where both Oculus VR and Sony are showing off rival VR kit.
"The awe-inspiring tech Oculus is building is a portal into an incredible world that my daughter will one day consider to be normal, said Mr Rubin in a statement.
"The moment I put it on, I wanted to help define that future."
The Oculus headset works by filling nearly all a wearer's field of view with a video game powered by a connected computer, and then changing the viewpoint according to the way the player tilts their head.
The firm currently sells a test version of the hardware for $350 (£210).
In-house games
Oculus VR said Mr Rubin would head up its internal content creation initiatives, which will be based at five different locations in the US.
Programmers discussing the news on Oculus' own developer forums speculated that Oculus VR needed to make the move to jump start the sector.
"What is happening is that Oculus VR is playing it slow in order to create an ecosystem, not just the headset," wrote Arni Arent, a Reykjavik-based programmer who owns a copy of the machine.
"I don't think they're just waiting for 'content' to be made (a chicken and an egg problem) but they want to go much further in order to kick off the VR revolution."
Christine Arrington, senior games analyst at the IHS Technology consultancy agreed with this view.
"The investments that Oculus has got from Facebook give the business time," she explained.
"Virtual reality isn't something you want to launch with bad technology and no games - that's been tried many, many times before and it's always failed. Having the right technology and as many good games will be critical."
Facebook agreed to acquire Oculus VR in March for about $2bn.
Project Morpheus
The Facebook team got a further boost at E3 with news that Sega's forthcoming Alien: Isolation - a title based on Ridley Scott's sci-fi movie - is being developed with the Oculus Rift headset in mind.
Attendees at the show are able to try out part of the game on the headset.
Other third-party titles on show for the machine include Playful Corp's Lucky's Tale, a third-person platformer, and Superhot, a first-person shooter funded by a Kickstarter campaign.
In addition, Oculus has teamed up with Icelandic developer CCP to create the space shooter Eve: Valkyrie, which is also being previewed at E3.
Sony is also allowing invitees to try out three demos on its Project Morpheus headset at the expo:
the dinosaur-themed Jurassic Encounter
the racer Street Luge
a PlayStation version of Eve: Valkyrie
Sony's machine features three processors of its own to supplement the power of the PlayStation 4, for which it is destined to be sold as an add-on.
"There are creative teams around the world working with us to define the future of gaming and entertainment," said Sony Computer Entertainment chief Andrew House about the hardware on Monday.
However, like Oculus VR, the Japanese firm has yet to announce a release date or price.