Amazon offers music-streaming service to subscribers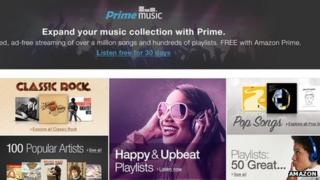 Amazon has launched its own music-streaming service in the US, taking on rivals such as Spotify and Google.
The feature is limited to subscribers of Amazon Prime, the company's premium membership programme.
Customers pay $99 (£59) a year for free shipping, e-books, and access to an online library of films and TV shows.
But Amazon's music collection offers just over a million songs, far fewer than Spotify or Beats Music, which both boast 20 million tracks.
Beats Music was recently acquired by Apple in a deal worth $3bn.
Deezer, another music-streaming service, has a catalogue of 30 million tracks.
Reuters reported that a failure to reach a licensing agreement with Universal, the world's largest record company, was behind Amazon's limited catalogue.
Warner Music and Sony, the two other major labels, had signed a deal, the news agency said.
Amazon says the music library will be available to Prime subscribers without ads or playback restrictions.
Users will also be able to download tracks to their mobile devices, to listen to them without an internet connection.
The service will be available through Amazon apps on Apple and Google Android devices, as well as on PCs and Macs.
Amazon has been under increased scrutiny in recent weeks, as continuing pricing disputes with suppliers Warner Bros and book publishers Hachette affected orders on its site.