France sparks .wine address row ahead of Icann meeting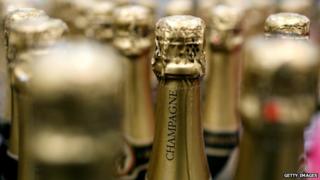 France has expressed anger at the organisation responsible for assigning internet domains over the planned launch of .wine and .vin addresses.
The Internet Corporation for Assigned Names and Numbers (Icann) has been rolling out new custom web names.
But France said addresses like .wine would put trade agreements regarding the sale of region-specific products like champagne at risk.
French minister Axelle Lemaire said Icann needed to be more transparent.
She called for a new general assembly to be set up to govern domain names, with a "one country, one vote" system.
The US agreed earlier this year to relinquish ultimate control over Icann, which is based in California. Discussions are continuing as to what kind of body should replace it.
In a letter to Icann, quoted by the Financial Times, Ms Lemaire said: "The lack of adequate redress mechanisms and, above all, the lack of accountability demonstrate the need for significant reform of Icann even before the current debate on the global internet governance system comes to a conclusion."
A meeting of stakeholders involved in Icann is taking place in London this week. On the agenda will be the continued creation of the new generic top-level domains (gTLDs).
In 2012, a whole host of new gTLDs was announced - widening the possibilities from the likes of .com and .net to include custom extensions such as .amazon, .nike and .bbc.
Many are concerned that the plethora of new domain names will make it much harder to protect brand names online.
Ahead of the meeting, Icann's president Fadi Chehade responded to France's concerns.
"Wine is serious," he said.
"We all like wine. There's no issue with the fact that wine is a serious matter, it's also a major industry for France and other parts of the world.
"I think that their concern about this gTLD is warranted. There are mechanisms at Icann to pursue - and they should continue pursuing them."
However, he hinted that France may not be satisfied with Icann's eventual decision on the matter.
"We all get frustrated sometimes when we don't get the conclusion that we want."
'Game the system'
There are strict rules regarding the labelling of wine, depending on where the grapes are grown.
Champagne, for instance, should be produced only in the French region of the same name. Similar drink produced in other parts of the world must be referred to as sparkling wine.
Ms Lemaire, France's digital affairs minister, expressed worry that new domain names could weaken that identity.
However, Icann insists that trademarked names are adequately protected.
It set up a brand database, known as the Trade Mark Clearing House (TMCH), in 2013.
Its intention was to help businesses register domain names for which they had the rights by giving them early access to sign up for relevant names.
"The biggest discussion wine companies and governments have is that these TLDs could open up the market and have companies register wine trademark names and sell them back to the wine companies in order to game the system," explained Vicky Folens, senior manager for the TMCH.
"However, all these wine industries have trademarks - so all of these marks can be protected by the Clearing House, which allows them to register their own trademarks in different gTLDs."
But if companies do not register - and pay - for their domain, it will in most cases be offered up for general sale.
She added that additional measures could potentially be introduced to further protect domains like .wine.
"The registry policy is not completely set in stone," she said.
'Excessive cost'
Icann has come under considerable criticism over its decision to open up the domain-name assigning process.
Critics said Icann was increasing the burden on companies seeking to protect their brand names by forcing them to pay money to register new related gTLDs.
More than 80 companies petitioned the US Department of Commerce, saying that the plans would cause "excessive cost and harm to brand owners".
Also, there were some clashes in the bidding process. For instance, .amazon was wanted by the online retailer - but others felt it should be reserved for content relating to the rainforest region.
The .app address attracted a total of 13 different applicants.
Follow Dave Lee on Twitter @DaveLeeBBC