Can you make a giant dance? Facebook tries to innovate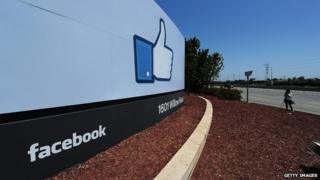 Big established companies that dominate their industries often find it gets harder to innovate - so is Facebook now about to face that same problem? I've just spent three hours at the social network's headquarters trying to work out whether it can stay ahead as it grows ever bigger.
Life must look good if you're one of the nearly 4,000 people who turn up for work at the sprawling campus in Menlo Park in California, where the central plaza Hacker Square is dotted with cafes and people stroll in the sunshine toting their laptops as they head for the next meeting.
With profits now rolling in from mobile advertising, and much of the focus remaining on improving the core product, it is hard to remember the last big Facebook innovation. The company seems to buy new ideas - from Instagram to WhatsApp to Oculus Rift - rather than developing its own.
But in apparent recognition of that problem, Facebook now has a division called Creative Labs, which consists of small teams given the freedom to work on stand-alone mobile apps. Many are expected to fail, according to Will Cathcart who runs this project, but a few may come up with a winning idea.
I met the team behind Slingshot, which has been out in the US for a couple of weeks and is now launching worldwide.
This is an app which allows you to send - or rather sling - photos and videos to your friends. The trick is they can only see them if they sling something back.
It's quite slick and fun - though having installed the app last week I found that the tech blogger Robert Scoble had sent me 16 slingshots which I couldn't see until I found something worth slinging back. Maybe it's not for my demographic…
Slingshot is obviously aimed at the Snapchat crowd, young people always on the lookout for a new way of communicating and promiscuous in their use of social media.
Having failed to buy the app whose snaps vanish into thin air after opening, the undisputed king of social networking is now trying to shore up its defences by offering something similar.
Only the paranoid survive, as the Silicon Valley mantra goes, so Facebook is probably right to try anything and everything that might stop younger users slipping away from its orbit.
In its approach to innovation, Mark Zuckerberg's company is far more focused but less adventurous than another tech giant. Google has poured huge sums into Google X, the divisions which undertake so-called "moonshots" like the self-driving car or Project Loon which aims to deliver internet access via high-altitude balloon.
None of these projects looks likely to deliver much, if any, revenue to Google's bottom line in the near future, yet the search giant can probably afford to go on allowing its engineers to spend much time and huge amounts of money on them.
Unlike Facebook, Google's core business of search-based advertising does not appear to be under threat from some twenty-something with a bright new idea.
That makes it a more exciting company to watch than Facebook, even if many of its hardware ideas seem to reflect an engineer's dreams rather than a marketing executive's shrewd appraisal of what consumers will buy. Later today its annual developer conference Google I/O gets underway with a keynote which should see lots of new wearable technology unveiled. We'll be assessing how nimbly Google is dancing into the future.