Google removing BBC link was 'not a good judgement'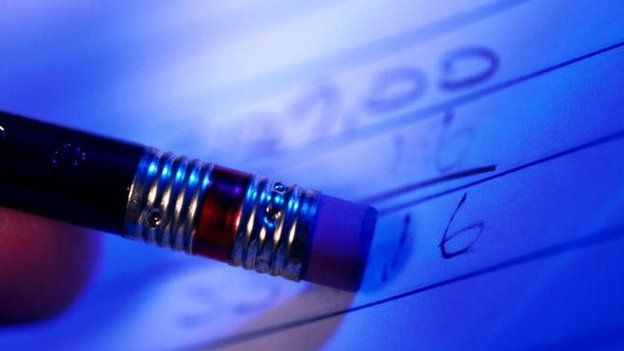 Google's decision to remove a BBC article from some of its search results was "not a good judgement", a European Commission spokesman has said.
A link to an article by Robert Peston was taken down under the European court's "right to be forgotten" ruling.
But Ryan Heath, spokesman for the European Commission's vice-president, said he could not see a "reasonable public interest" for the action.
He said the ruling should not allow people to "Photoshop their lives".
The BBC understands that Google is sifting through more than 250,000 web links people wanted removed.
The figure relates to more than 70,000 individual requests made between 29 May and 30 June - with an average of 3.8 links requested per person.
After an initial surge, the rate of requests has levelled out at about 1,000 per day.
The highest number of requests so far has originated in France, with 14,086 requests made in the same period. France is followed by Germany, with 12,678, and the UK with 8,497.
It is not known how many of the requests have been successful.
Robert Peston, BBC economics editor
What Google has done is not quite the assault on public-interest journalism that it might have seemed.
Unless, that is, you believe that when someone makes a public comment on a media website, that is something that is voluntarily done and should not be stricken from the record - except when what is at stake is a matter of life and death.
Google has begun notifying media companies, including the BBC and the Guardian, that it started to remove links over the past week.
Among them, were links to an article about the bank Merrill Lynch, posted by BBC economics editor Robert Peston in October 2007.
The identity of the person who made the request is not yet known, although it is understood not to have been the subject of the article, former Merrill Lynch boss Stan O'Neal.
Instead, the request relates to the reader comments that appear underneath the story.
The article will now no longer appear in Google search results whenever someone searches for the name of the person who made the request.
However, if the same search is done outside Europe, the result will appear as normal.
Ryan Heath is the spokesman for Neelie Kroes, the European Commission's vice-president. Ms Kroes is leading Europe's efforts in enforcing new privacy legislation.
Mr Heath argued Google's decision regarding the BBC article may have been "tactical".
"Google clearly has a strong interest in making sure that they're able to work with whatever the legal requirements are, so they position themselves in a particular way over that," he said.
"It doesn't come cheap to deal with all of these requests, so they need to find some way to come up with dealing with them.
In 2012, the European Commission published plans for a "right to be forgotten" law, allowing people to request that data about themselves be deleted
Online service providers would have to comply unless they had "legitimate" reason to do otherwise
The plans are part of a wide-ranging overhaul of the commission's 1995 Data Protection Directive
UK's Ministry of Justice says the law "raises unrealistic and unfair expectations"
Some tech firms have expressed concern about the reach of the bill
"It may be that they've decided that it's simply cheaper to just say yes to all of these requests."
He added: "That's going to spark its own debate, and rightly so."
Google has insisted it will look at each request on merit.
"We have recently started taking action on the removals requests we've received after the European Court of Justice decision," the company said in an emailed statement.
"This is a new and evolving process for us. We'll continue to listen to feedback and will also work with data protection authorities and others as we comply with the ruling."