Sniffer dog finds child abuse images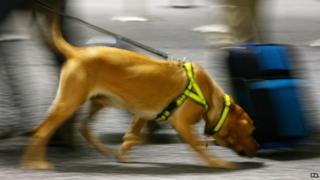 A suspect has been arrested after a dog trained to detect electronic circuitry found a memory stick containing images of child sexual abuse hidden in a tin box inside a metal cabinet.
Rhode Island police received Thoreau from Connecticut police after the dog completed 22 weeks of training, which involved detecting gadgets for food.
The only other US gadget-sniffing dog remains stationed in Connecticut.
But some UK experts have questioned the efficacy of the training methods.
Thoreau's handler, Det Adam Houston, told the Providence Journal: "If it has a memory card, he'll sniff it out."
The food-based reward system was how the dog ate "every day", he added.
But Maggie Gwynne, of Sniffer Dogs UK & International, told the BBC this was "completely contrary" to the UK police and prison service's training methods.
"Offering a sniffer dog food in exchange for a 'find' opens the way for an abuse of the system - if its hungry enough it will take food from anybody, not just its handler and therefore defeats the object of the search," she said.
"It would be interesting to research their success rate, however.
"I don't believe this is a field that any UK police dog would be trained in, and I personally have never heard of such a thing," .
"[Sniffer dogs] are concerned with the detection of drugs, cash, firearms, explosives, and are used for conflict management and tracking criminals who have legged it, or missing and vulnerable people."
It is unclear whether the dog can distinguish between a memory stick and other electrical equipment likely to be around a suspect's house, such as TV remotes, radios and computers.
Ms Gwynne said she had no doubt dogs could be trained to locate hard drives and/or memory sticks, in the same way firearms dogs were trained to find metallic objects but the idea "that it could make a distinction as to what it has found, seems unrealistic".
In 2008, dogs Lucky and Flo, were trained to sniff out pirated DVDs, with Wired noting: "The dogs cannot decipher the difference between pirated and authentic DVDs."