Yo app warns Israeli citizens of missile strikes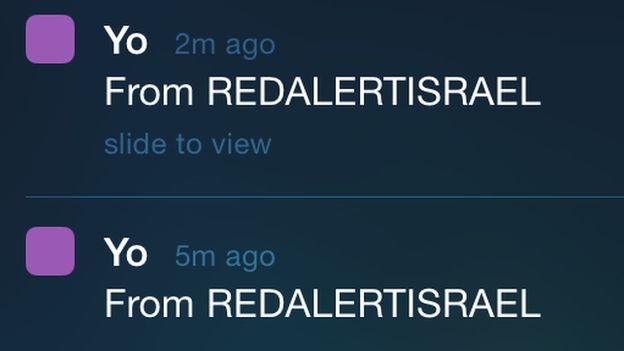 Israeli missile notification service Red Alert has teamed up with the unlikely hit app Yo to warn of incoming strikes - leaving many in the local tech scene more bemused than impressed.
Yo users who follow RedAlertIsrael within the app receive an alert whenever spotted attacks are inbound.
Red Alert provides real-time warnings of mortars or missiles fired into Israel by Palestinian militants.
Some experts remain sceptical about the usefulness of Yo.
The app - developed by a San Francisco-based Israeli - sends the word "Yo" as a text and audio notification to friends, but nothing else.
Since launching in April it has been downloaded about two million times across the globe.
The creators of Red Alert - Ari Sprung and Kobi Snir - aim to use Yo's simple push notification service to reach out to a larger pool of citizens who may be at risk from attack.
According the Times of Israel, the Yo notifications are meant to complement the Red Alert app, which has a more comprehensive breakdown of the imminent threats.
Mr Sprung told the Times of Israel that his app gets its information from the Israel Defense Force and the Homefront Command.
Dvir Reznik, an advisor for start-ups in Israel, told the BBC that the Yo alerts seemed half-baked.
"If I'm on one side of Israel and a missile lands miles away, the Yo warning is not of much use to me," he said.
"However it's better than nothing and I can see this evolving into something more meaningful, but it needs more substance to make it as convenient and as useful as Red Alert."
The retooling of Yo comes at a time of increased tension between Israel and the Palestinians.
There are no similar apps in Gaza, with many Palestinians relying instead on Twitter hashtags to avoid danger.
Yaniv Feldman of Israel-based tech website GeekTime told the BBC that he thought Yo was "one of the dumbest ideas ever," and that the only beneficial use for the Yo and Red Alert app mash-up was "to raise awareness among people who are not in Israel and do not realise how often missile strikes affect us."
Anouk Lorie, editor in chief of NoCamels, an Israeli tech blog was, however, a little more positive.
"Red Alert is a potentially life-saving app for a large number of Israelis who have only 15 seconds to find cover from the dozens of daily incoming rockets, so I'm not sure that 'Yo!' is the appropriate word to see pop up on mobiles," she said.
"On the other hand, perhaps seeing 'Yo!' on your screen feels less distressing than the loud siren that is otherwise the default on Red Alert.
"However, no matter how pointless some people deem the Yo! app, if it can even just slightly lighten an otherwise very difficult situation, I welcome it."
Ari Sprung, co-author of Red Alert, told the BBC that the mash-up is "definitely giving the rest of the world a sense of the volume of missiles that are being launched into Israel on an hourly basis" and that he hopes the app will raise awareness.
Related Internet Links
The BBC is not responsible for the content of external sites.