England's national parks to get better mobile phone signal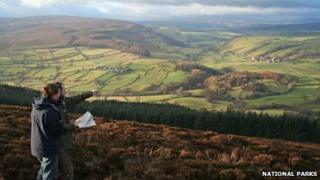 England's national parks are to get improved mobile phone coverage, following an agreement with the four main UK network operators.
EE, O2, Three and Vodafone have pledged to minimise the "adverse landscape effects" of any new infrastructure.
The National Parks England director told BBC News any new masts needed would be "sensitively located and sensitively designed".
More than 330,000 people live in the parks, covering almost 10% of England.
The accord, signed by National Parks England and the Mobile Operators Association, is designed to tackle so-called "notspots" - areas in which there is no mobile coverage whatsoever.
National Parks England director Paul Hamblin told BBC News some new masts may be built to bolster mobile signal in the natural environments.
Currently, the radio waves that carry mobile phone signals are often obstructed by the terrain in national parks and can be affected by stone buildings, which are harder to penetrate.
The new agreement outlines plans for "mast-sharing, site-sharing, and any other technical advances" that would help protect the areas' environment while increasing connectivity.
The Mobile Operators Association's executive director, John Cooke, said: "There are compelling social and economic reasons for having good mobile connectivity, including mobile broadband, in rural areas... because such connectivity mitigates the disadvantages of greater physical distances and poor transport links.
"Operators have worked well with National Parks England to ensure that the benefits of mobile connectivity reach communities in these beautiful parts of our country and help them survive and thrive in the 21st Century."
A Mountain Rescue England and Wales representative said the organisation welcomed the move, which could improve safety in the parks, but cautioned against complacency.
"It is always helpful if people have a map and a compass," he said, adding that mobile phones were prone to running out of charge, as well as losing connectivity.