'Hidden From Google' lists pages blocked by search engine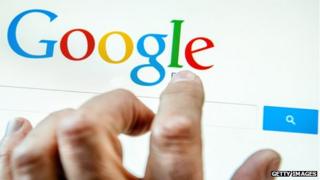 A website has been set up to list items Google has removed after the European Court of Justice ruled people could have articles about them deleted from the results of specific search terms.
Hidden From Google claims to have had "hundreds" of tip-offs from its users.
Searches on Google in Europe for some of the articles listed now return links to Hidden From Google by virtue of their mention on it.
Campaigners have called the court ruling an attack on free speech.
"There is an information gap there and, where you can verify examples, you can curate a list," said Afaq Tariq, the US web developer who set up the site in June this year.
He said he had asked for help from other developers in curating his list, which stood at 15 examples on Tuesday.
Mr Tariq said that, at first, he was just looking for an excuse to set up a website to test some software.
But, after settling on the "right to be forgotten" issue, he said he had realised that no-one had stepped forward to curate a list of articles removed from search engine results.
"It is not as if the links are going away, it is just Google results within Europe that they are removed from, so you have this before-and-after picture with Google US," he said.
"Some seem to have been removed, but are not any longer - that is part of the reason the list remains short. Until I can verify that an article is being censored consistently across European domains, I cannot put it on the list in good conscience," he said.
Streisand effect
Mr Tariq said he had not yet made up his mind on the issue in general. But the inclusion of articles removed from search engine results on Hidden From Google raises the possibility of the "Streisand effect" - when demanding silence on a subject only serves to draw more attention to it.
The term was coined after the singer unsuccessfully attempted to suppress publication of photographs of her home, inadvertently drawing more attention to them.
Two BBC News articles are among those listed. One request was to remove a 2010 article about a child abuse trial in Portugal from the results for "Carlos Silvino". Silvino, who admitted to 639 charges relating to the abuse of children or procuring them for others, was given an 18-year sentence.
The other request was to hide a BBC article related to a blog by economics editor Robert Peston, although the website was unclear why the article had been removed.
Google was unable to say, but inquiries made by Mr Peston suggested that it was most likely at the request of someone who had left a comment on the blog, rather than at that of its subject, former Merrill Lynch chairman Stan O'Neal.
The result of a search for the name Robert Daniels-Dwyer, an archaeology expert caught shoplifting in 2006, and the city of Oxford is one of those listed as having been censored.
Instead of returning a contemporaneous Oxford Mail news story on the case, the search now returns a link to the Hidden From Google site as its eighth result. Seven of the top 10 search results refer to the removal of the Oxford Mail story from Google's results.
Also among the terms removed was the name of the Chancellor George Osborne's brother. The search terms related to an article on the Daily Express' website about Dr Adam Osborne's conversion to Islam.
The new law was the result of a test case in May this year, in which the the European Court of Justice's found in favour of Spaniard Costeja Gonzalez. He had unsuccessfully tried to make Google Spain remove references to an auction notice of his home dating from 1998.
Mr Gonzalez argued that the matter, which came about because he had had to auction his home to cover his social security debts, had been resolved and should no longer be on his online record.
'Judge and jury'
The ruling gave people the right to ask for articles to be removed from search engine results if the piece included their names, as well as "inadequate, irrelevant or no longer relevant, or excessive" information about them.
It does not include a requirement for articles to be taken offline altogether. However, because of the popularity of search engines, it has been argued that the effect is similar.
On Monday, Google said it was being made to "act as judge and jury" on search results about individuals by the ruling.
Speaking to a Media Society conference in London, the company's spokesman Peter Barron said: "It's not a task that we ever wanted.
According to the Daily Telegraph, he told the Rewriting History conference: "Our background is that we are firmly in favour of free expression. The way that it's worked hitherto is that an individual with a grievance would go to the publisher or to a court - we don't think we should be judge and jury but today we face the law."
He said that Google had received 70,000 takedown requests since the ruling in May this year, adding that the firm was now getting another 1,000 per day. He said the ruling meant "the right to privacy now trumps freedom of expression", the paper reported.
The government has also expressed opposition to the new law.