Manuel Noriega sues Activision over Call of Duty
By Leo Kelion
Technology desk editor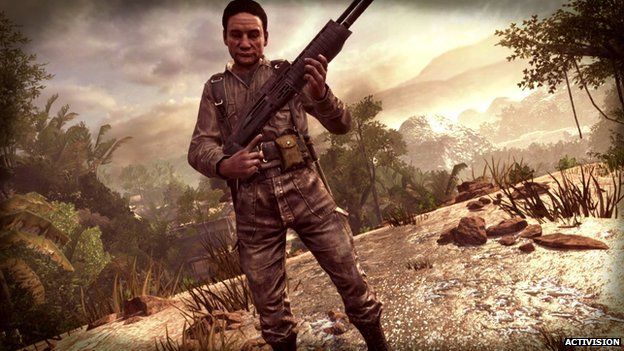 Manuel Noriega, the former dictator of Panama, is suing Call of Duty's video games publisher.
The ex-military ruler is seeking lost profits and damages after a character based on him featured in Activision's 2012 title Black Ops II.
The 80-year-old is currently serving a jail sentence in Panama for crimes committed during his time in power, including the murder of critics.
One lawyer said this was the latest in a growing trend of such lawsuits.
"In the US, individuals have what's called the right to publicity, which gives them control over how their person is depicted in commerce including video games," explained Jas Purewal, an interactive entertainment lawyer.
"There's also been a very well-known action by a whole series of college athletes against Electronic Arts, and the American band No Doubt took action against Activision over this issue among other cases.
"It all focuses upon the American legal ability for an individual to be only depicted with their permission, which in practice means payment of a fee.
"But Noriega isn't a US citizen or even a resident. This means that his legal claim becomes questionable, because it's unclear on what legal basis he can actually bring a case against Activision."
In Activision's video game, Noriega initially helps the CIA capture a Nicaraguan terrorist, but later turns on the Americans and is hunted himself.
In reality, Noriega did work as a CIA informant before the agency broke ties with him. After the US became concerned about his violent rule, President George Bush ordered the invasion of Panama in 1989, which resulted in his capture.
A 13-page document filed in Noriega's name claims that he is portrayed as a "kidnapper, murderer and enemy of the state" responsible for "numerous fictional crimes" in Black Ops II, according to Courthouse News Service.
It alleges his inclusion heightened the game's sense of realism, helping boost its sales.
The game - which was scripted by David Goyer, screenwriter of the recent Batman movies - was 2012's biggest-selling title in the US, UK and elsewhere.
A spokeswoman for Activision declined to comment.
The California-based company previously reached an undisclosed out-of-court settlement with the band No Doubt after the musicians sued over the use of their singer, Gwen Stefani, performing songs by other artists in the game Band Hero.
Earlier this year, its rival EA Sports agreed to a $40m (£23m) payout after US college football and basketball players complained their likenesses had featured in several of the firm's titles.
Meanwhile, the publisher Take-Two Interactive is currently facing a related case in which the actress Lindsay Lohan claims a character in Grand Theft Auto V is based on her image, voice and clothing styles.
While such examples have been based on US law, Mr Purewal added that games firms had not been immune to similar complaints in the UK.
"In the UK, we have the right to privacy, which is slowly being extended to cover how celebrities and other well-known people are depicted online and in video games," he explained.
"So, for example, Lady Gaga took action against the British video games company Mind Candy over the depiction of a character called Lady Goo Goo in its game Moshi Monsters.
"But it is happening a lot more in the US at the moment."
Related Internet Links
The BBC is not responsible for the content of external sites.