Amazon leaks Kindle Unlimited e-book subscription plan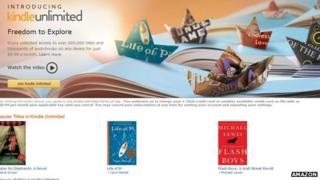 Amazon appears to be preparing a new subscription service that allows subscribers to download as many Kindle e-books and audio books as they like.
The firm uploaded images that indicate the available library would include more than 600,000 titles including the Hunger Games trilogy and the Harry Potter series.
The discovery was first reported by the news site GigaOm .
Amazon has now deleted the details, but they can still be accessed via Google.
They state that the Kindle Unlimited service costs $9.99 (£5.80) a month and includes Kindle exclusives as well as titles from mainstream publishers.
That makes it roughly the same price as Netflix's popular TV and movie streaming service,
Many of the titles displayed on the short-lived webpage overlap with those in Amazon's existing Kindle Owner's Lending Library - a collection of 500,000 e-books available to subscribers of Prime, the company's fast-shipping service.
However, Prime members can only borrow one e-book per month, and only one title at a time.
Kindle e-books can be read via Amazon's own e-readers, tablets and smartphones as well as on apps for other manufacturer's devices.
One industry watcher said Kindle Unlimited appeared to be a "defensive gesture".
"It's a manoeuvre to get into the market before other e-book subscription services, such as Oyster and Scribd, gain a foothold," Philip Jones, editor of the Bookseller trade magazine, told the BBC.
"Under the terms of Amazon's contracts in the United States, it can get the same terms that publishers have agreed with the others, so it can match any offers that those rival businesses come up with.
"There's still a doubt whether subscription services in the e-book sector will work commercially for publishers and authors. But this suggests to me that Amazon believes there is at least a small possibility that they will gain some traction."
Amazon could not be reached for comment.