Xiaomi unveils Mi 4 smartphone and Mi Band wristband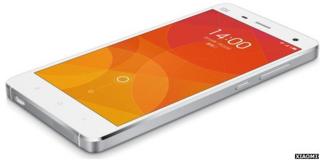 China's fast-growing electronics firm Xiaomi has unveiled a new flagship smartphone and companion wristband.
The firm is marketing the steel handset's 5in (12.7cm) screen as offering 17% greater resolution than Apple's higher priced iPhone 5S.
It adds that the wristband acts as an ID authenticator, allowing the phone to be unlocked without a password.
One expert described the Mi 4 phone as "another winner" from a firm that seemed to have "unstoppable momentum".
Xiaomi (pronounced shiow-me, and meaning little rice) showed off the new kit at a launch event in Beijing.
It also revealed that it had sold 57.4 million phones since going into the smartphone business three years ago.
In addition, the firm disclosed that its first batch of mobiles to go on sale in India had sold out in 38 minutes earlier in the day. However, it did not say how many were bought.
Earlier this month, Samsung Electronics forecast a drop in profits due, in part, to "increased competition" from Xiaomi and other rivals in China. The South Korean firm cut the pay of its top executives as a result.
Market research firm Canalys recently ranked it as the world's sixth-largest smartphone vendor and China's third-biggest, after Samsung and Lenovo.
Low cost, high spec
While Xiaomi is little known in the West, where it does not yet sell devices, BusinessWeek magazine recently described it as a "brand that consumers truly lust after" in China and other emerging economies.
The private-owned company was formed in 2010, and initially only offered its MIUI user interface as add-on software for Android devices.
However, it only took it a year to announce its first handset, which included high-end components at a relatively low price - something it achieved by keeping advertising to a minimum and mainly selling its devices online, a strategy it has continued ever since.
In 2013, it caused a further stir when it announced that Hugo Barra - one of Google's top Android executives - was leaving the search giant to become Xiaomi's global vice president.
"It seems to have woven together a killer combination of great product at a great price, with an audience that spreads the word for the firm via social media very effectively," said Ben Wood, lead researcher at telecoms consultancy CCS Insight.
"Its software offers a very clean and colourful user interface that is constantly being updated, sometimes on a weekly basis.
"The company incorporates changes that have been suggested by customers, and one of the nice touches is that it lets customers know if their ideas are implemented.
"So, it is being incredibly inclusive in terms of getting its users to define the direction of not only the software but also the hardware in some respects."
Activity tracker
Unlike most handset makers, Xiaomi's online marketing for the Mi 4 plays up the source of its parts, boasting a "high colour saturation" screen from Sharp and the "fastest" 13 megapixel rear camera from Sony.
The design is reminiscent of Apple's iPhone 5 and marks the Chinese firm's first metal-framed build.
It is powered by a quad-core Qualcomm Snapdragon 801 2.5Ghz processor - the same as used by the UK edition of Samsung's Galaxy S5.
However, Xiaomi offers 3 gigabytes of RAM memory, 50% more than Samsung's device.
It is also significantly cheaper, costing 1,999 yuan ($322; £189) for the version with 16GB of storage and 2,499 yuan ($402; £235) for the 64GB edition.
The wristband is also keenly priced at 79 yuan ($13; £7.50) - less than a tenth of cost of Fitbit's rival Flex bracelet in China.
In addition to unlocking the phone via Bluetooth, the water resistant Mi Band can track activity and sleep, and act as an alarm clock, but lacks a screen. Xiaomi says it lasts up to 30 days between charges.
In addition to China and India, the company currently sells its devices in Singapore, the Philippines, Taiwan and Malaysia.
It has also announced plans to expand into Thailand, Indonesia, Turkey, Russia and Mexico this year.
However, it recently told the Wall Street Journal that an ambition to add Brazil to the list was taking longer than hoped because the South American country's laws meant it would have to assemble devices locally.
Mobile's rise
The Mi 4 announcement coincides with official figures that indicate more people in China now access the net using a mobile device than via a PC.
The China Internet Network Information Center said on Monday that the country had 632 million net users at the end of June - a 2.3% rise on last year's figure.
Of that number, 83% used a mobile device and 81% a PC.
According to a forecast by research firm IDC, China is now on course to account for about one third of all smartphone shipments by 2018.